Update Required
To play the media you will need to either update your browser to a recent version or update your
Flash plugin
.
Few of us can still recall the aroma of freshly baked bread with homemade jam and the bells of the flocks of sheep and goats returning from pasture. Isn't it enticing to have the opportunity for a summer vacation where amidst the slow pace of traditional rural life, we can gain new knowledge of archaeology and contemporary practice of relaxation and also some tips on how to make the typical Bulgarian chutney for example? How does a British couple turn their dream of a rustic idyll into reality and how come they chose for this a small village in north-eastern Bulgaria?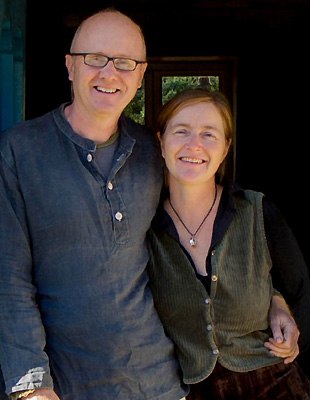 Back in the UK, Claire Coulter and Chris Fenton-Thomson had an ordered, normal life, working as archaeologists Monday to Friday, 9 to 5, but it was somehow not enough. What brought them to the other end of the Old Continent we learn from the interview which the creators of the Wild Thyme eco-retreat gave especially for Radio Bulgaria: 
"We wanted a different life", explains Chris. "We were living in the UK, and we knew we wanted to have a small farm. Initially, we volunteered in organic farming in France and we kept meeting people who've been to Bulgaria or were from Bulgaria, and they were all telling us how some of the traditional skills of small scale farming were preserved. So we decided to go and see for ourselves. We took a camper van trip and organized several volunteer placements. The first place we went was this village and we didn't leave".
The village is called Palamartsa and is located 7 km from the town of Popovo. It is only one of numerous Bulgarian villages whose population in recent decades has drastically declined as the school and the kindergarten were closed. However, the local community centre founded in the remote 1893 is still actively functioning with several musical groups and in recent years the place is experiencing a renaissance - largely thanks to its new inhabitants from the Island who number is growing. Initially, Chris and Claire stayed with another British couple, but quickly purchased a property that they turned into an eco-farm. And for the second year now there is also a guesthouse, an Art Deco renovated building from the 1920s, with the pastoral name "The Wild Thyme". If you have the passion in something and if you believe in something, then it is possible, says Claire and adds:
"When we initially came to Bulgaria, we thought we would travel around the country and work on projects in different areas but we came here and we loved the lifestyle, we loved that it's so traditional, and that the people, the old women especially, still have the skills to do everything themselves, that they are so self-sufficient. They just took us under their wing, treated us like their own children, and taught us everything that we know. We have Maria who cooks for the guests and we have Stefan who takes people to the forest. We work with local people closely and we feel very much part of the community."
This year alone, Chris and Clair have already had guests from Romania, France, Wales, England, Germany, Japan, Chile, and the summer season has only just started. Some people come for a week, others just for a weekend, all seeking a retreat from the big city into the serenity of life in the slow lane, as Chris and Claire describe it. The place is still not so popular with Bulgarian guests, yet those who come say it brings back memories of their cloudless childhood days spent in the countryside with their grannies. But what makes the Wild Thyme different from similar eco-retreats in Bulgaria? Here you can join a one-day or even one-week archaeological tour to sites in the area and there are not few at all.
"My interest in Bulgarian archaeology started here", says Chris. "When I was working in England, my work was all based in British archaeology. But obviously since coming here we have both discovered the incredible archaeology that's here, particularly I think in this part of the country. Even though most of the tourist books we read focus on more famous sites like Kazanlak and Rhodopes, we did a lot of research as to what sites were close to us, within an hour's drive, and the most popular one is the Sveshtari Thracian tomb, a UNESCO world heritage site, but there's also a whole load of other Thracian remains there, and we go there quite often with people. Another one is the Madara Horseman. People coming from Britain also love to see the Roman archaeology because in Britain although it was part of the Roman Empire, the remains are nowhere near as well preserved as they are here. So we go to Nicopolis ad Istrum which is a well-preserved Roman town near Veliko Tarnovo, and also to Razgrad where there are good remains of the town of Abritus. People coming from the UK also love to see relics of the Communist monuments. The monument in Shumen is the most incredible monument I have ever seen, it is so huge and I like the fact that is it so near sites like Pliska and Veliki Preslav (the medieval capitals of Bulgaria), so we sometimes make a tour that combines both and talk about the relationship between the two."
After several years in Palamartsa, Chris and Claire are already fluent in Bulgarian and are part of the local community, as Chris even plays the violin in the local band:
"I've been playing with the village orchestra for a couple of years, particularly with accordion player Dimitar Todorov who lives in Popovo. And he just taught me by ear various songs as I didn't know any Bulgarian music. Yet there's a growing interest in Balkan music in the west and we thought it might be great for people probably from the USA, UK or Western Europe to come here with an instrument and spend a week here. Each week they can learn a couple of new tunes and at the end of the week play together as a group in public."
This is just one of the activities which guests at the Wild Thyme this summer can join. The workshop in Bulgarian folk music led by accordionist Dimitar Trifonov who has been teaching Bulgarian folk music for over thirty years begins in late July. Also you can join the regular reiki sessions with Claire who is a certified instructor, take lessons in traditional agriculture, cooking, enjoy horseback riding, trekking around the area, mushroom foraging and picking herbs and berries. And of course, it all starts in the morning with a heart-warming home-made breakfast. The season lasts until late October. All you need is the desire to dive into life in the slow lane in a bourgeoning Bulgarian village!
The audio file contains the full interview with Claire Coulter and Chris Fenton-Thomas.

Photos: Courtesy to Claire Coulter and Chris Fenton-Thomas