The movie starts and takes us to one of the underpasses in Bulgaria's capital Sofia. There, we have the feeling that we are entering a lobby of an underground cinema hall. Portraits of world acclaimed actors such as Charles Chaplin, Marilyn Monroe and Louis de Funès are looking at us from the walls of that subway. The portraits of celebrated Bulgarian cinema legends such as Todor Kolev, Anton Gorchev and Katya Paskaleva are also there. The hero (the youngest of the three brothers) and the Lamia from the Golden Apple fairytale were depicted right next to famous cartoon characters such as the Lion King and Mickey Mouse. The red carpet painted along the stairs of the underpass takes us straight to the brilliance of the Oscars. It is a real attraction for all passers-by. People can see all types of art installations in that Sofia subway, including a real Alley of Glory with fingerprints of young theater stars, sculptures and 3-D wall panels made of old and discarded film.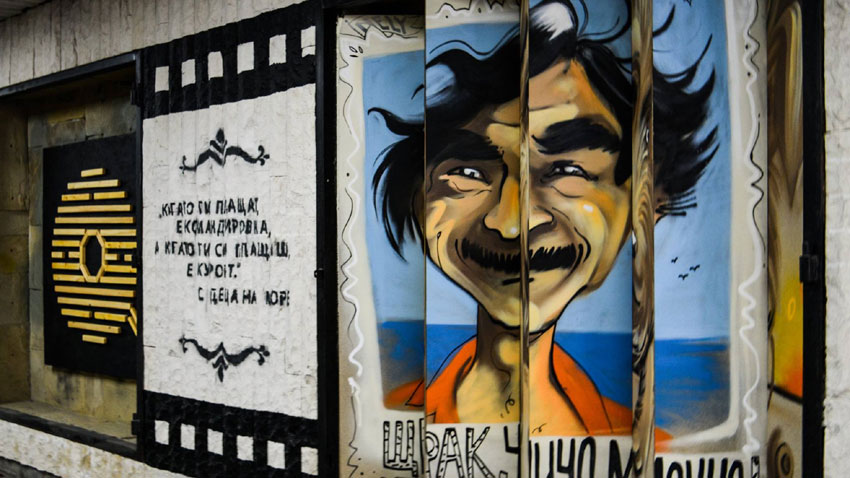 The authors of that unusual artistic project sent us various messages. The inscription reading Stop Analyzing and Start Acting welcomes passers-by at the subway's entrance. We continue walking down the stairs and soon we find ourselves in a real cinema and theatre pantheon. Bulgarian artist Dimitar Stafidov is our tour guide in that exciting walk. Dimitar is among the biggest enthusiasts who contributed to the fulfillment of that artistic idea. People must be more active, in order to change their urban environment. They are used to blaming the state for their problems. Well, we also had troubles with the state, but we would not achieve anything, if we complain only, Dimitar says and adds:
"The underpass is situated on Zagore Street and Tsarigradsko shose Boulevard. We decided to launch our artistic project there, because that central area is quite busy. Vlaikova cinema hall is also situated nearby. A section of the underpass is dedicated to Bulgaria's biggest international cinema forum - Sofia International Film Festival where the organizers of the event put posters and make announcements about forthcoming titles of the cinema programme. We wanted to make passers-by happy and painted portraits of different film celebrities. We divided them into four main categories - Bulgarian, European, American and world cinema. We also made a child corner with cartoon characters. The subway is part of our urban environment and people at different age and social status pass through it. The Goat Horn is my favorite Bulgarian movie and we presented the Bulgarian cinema through that film. Renowned Bulgarian actor Todor Kolev and his violin are also part of the artistic project. We received many discarded videotapes. We took out the film and made a symbolic wall panel with the image of that Bulgarian actor. When you paint on public places you have to make sure people will enjoy your works of art. Thus, graffiti artists and scribblers will respect your works of art and take care of them."
Some of Bulgaria's most talented graffiti artists painted in that underpass. They had the opportunity to paint the movies they like the most. Thus, we are now able to enjoy a great variety of styles. The subway has been preserved in perfect condition since September 2016 when it was officially unveiled. People enjoy our art and respect the efforts of the artists, Dimitar Stafidov further says. The Urban Environment team formed by enthusiastic makers has been gaining huge popularity in Sofia. They have been already invited to paint in public green areas, in offices and on facades of old buildings. The artists are currently working on a new project. They are to paint in a kindergarten yard in Sredets residential district.
"There is nothing but an iron fence in that kindergarten and it feels like children are playing in a cage", Dimitar Stafidov further explains. "That is why we are planning to paint various good monsters on the kindergarten's façade. We will also paint a child game on the ground and children will move like game pieces and roll huge dice. Our future projects will include children which makes me very happy. Children like doing new things and put their whole imagination into them. When they see something bright and beautiful they are always ready to help."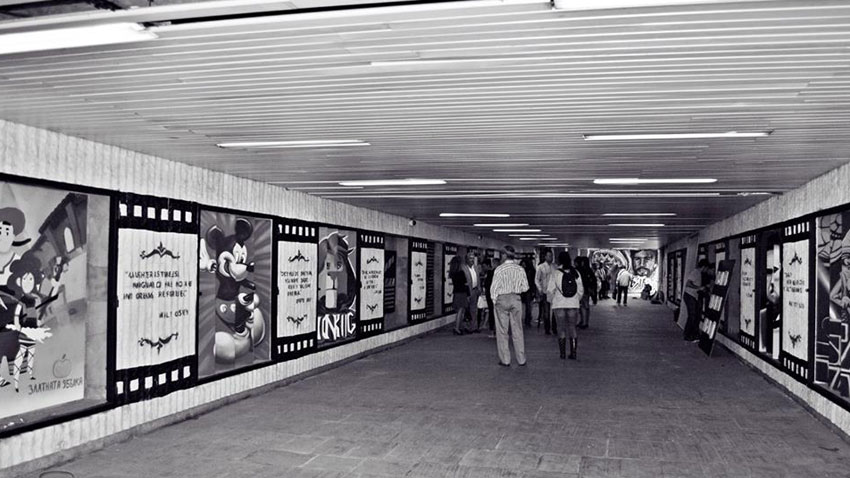 English version: Kostadin Atanasov 

Photos: provate library