Traditionally the name of the Bulgarian town of Troyan is related to woodcarving and ceramics. It is the birthplace of our story's main character Ralitsa Yovkova who has inherited the ceramic-making craft from her predecessors. She grew up with the smell of clay and the sound of the lathe. She graduated from the National Art School in Troyan and later on she continued with the Ceramics faculty of Sofia's National Academy of Art.
"I had my doubts there whether that was the right choice for me, or I was simply following the silent push of my parents and my own inertness," Ralitsa says. "There were students who were much better than me and I began to wonder whether I belonged there. I was good in math as well, for instance. After lots of thinking I decided that I should become really good in this due to the achievements of my great grandfather, grandfather and father. My roots couldn't offer me all that experience in any other occupation, so that I could upgrade. Then this inner travel began where I was looking for myself, trying to create something recognizable as my own style. Many of my tutors, such as Prof. Bozhidar Bonchev supported me. During a biennale in France he told me about the secret of success in art. One of the options is to be the first to do something, i.e. your art ceramics to be innovative. The second is to be better than the first one, which is also really tough and the third is to be different. I was definitely influenced by works of my colleagues, but I realized at one point that it wasn't the right way to stand out. Then I returned to the technique of my predecessors and it made my style different. It is named angoba technique, or slipware. Slip is an aqueous suspension of a clay body which gets painted in mild and pastel shades. These nuances are typical for me, alongside the graphic pattern."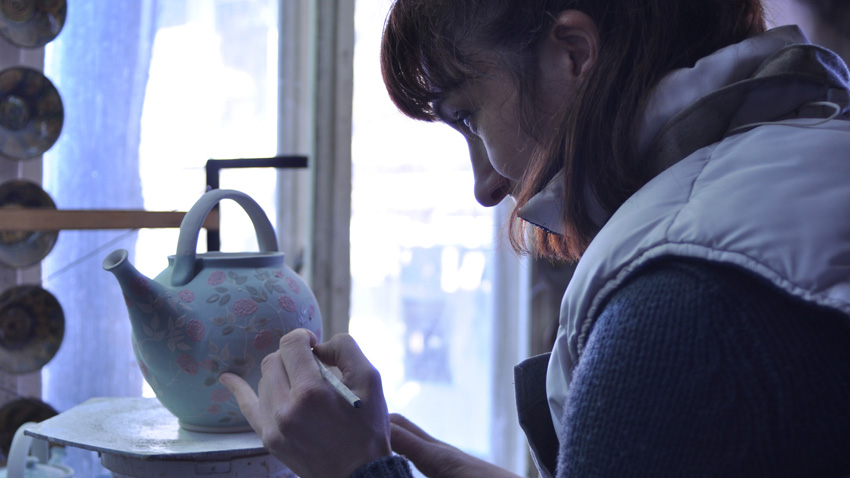 It is not a rare thing to see a woman being a master in ceramics in Troyan. The craft is blossoming there as the soil is suitable. The first sales of Ralitsa came thanks to her mother who is a teacher in French. Foreign tourists came to their house and her works were spotted alongside the ones of her dad. Today Ralitsa's ceramic works are exported to Germany, France, England and the USA.
"The process is quite technological and one needs to know very well the materials used. The shortest period of work is around two weeks, even when we are talking on a single cup only", Ralitsa says and adds:
"In the beginning I started with consignment sales at very small shops – a typical thing for a young author, looking for recognition. Thus I was spotted by bigger clients from sea resorts who ordered for the whole season. That was great happiness for me. I stopped looking for buyers, they started to look for me. I received orders from the major cities, then from Germany as well. The same thing happened with the USA. Each pattern has its fans: the B&W series still has its fans in France; the milder nuances of the green are well received in Germany, while the Russians enjoy more colorful ceramics."
Ralitsa concludes that it takes at least 7 years of experience, in order for a craftsman to be able to make sets and any type of fine pottery – it all requires lots of labor, patience and love.
English version: Zhivko Stanchev 

Photos: courtesy of Ralitsa Yovkova