The Svoge Municipality challenged end-2016 all those journalists who would like to be extreme reporters. The invitation goes along with the local project for turning the place into a Capital of extreme sports and adventure tourism in the near future. The platform for the popularization of Bulgaria's beauties around the Iskar Canyon has been acting as of the early spring with the purpose of presenting this country in a new manner to fans of extreme sports. The team onsite is multifunctional, as Ivan Kristoff, also known as Spiderman is one of its engines. The man has lived in Toronto ever since 1990 where his risky actions have gained him popularity. Ivan climbs up skyscrapers, performs tough operations across hardly accessible spots, hangs down from a chopper, takes aerial photos and participates in rescue operations. To cut it short – he is an expert in vertical and aerial operations. Ivan is also the main one to be blamed for the idea to train journalists for unexpected situations across dangerous and inaccessible spots. What are the major qualities required for an extreme journalist and what would make us opt for this occupation?

Spiderman gives us some answers: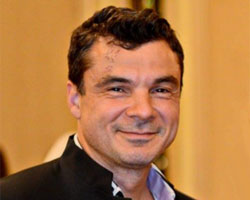 "If you Google the 'embedded extreme journalist' phrase, you would find nothing. We are the first to take up that initiative. The idea is locals who know the region best to share their experience with journalists. Few Bulgarians climb or explore caves along the Iskar Canyon and it will be nice to popularize it as such a destination. Here we can provide chopper tours up in the sky, rally contests and cycling around the Skaklya Waterfall. Journalists may find this a new experience."
The goal of Ivan is to spread the word about his idea abroad as well. He has focused his attention on the Middle East, due to his contacts with Dubai's royal family. He is also a partner at many chopper exhibitions there. The beauties of Bulgaria and the options for easier development of this type of innovative business would attract investors. However, Kristoff also sees some obstacles:
"People in the branch intend to rely on the quick jiggery-pokery with the state administration, instead of trying to look for development the way they do it in the western countries. In its turn the administration wants to get paid for the service. Thus a vicious circle occurs which is not useful for anyone, there is no profit in it."
Another issue that Ivan Kristoff sees in Bulgaria is the lowered value of human life. Insurances envisage EUR 500 only in case a person is lost in the mountain and is not found. It would be better to die in such case, since a rescue operation would cost us thousands.
"One of the things that I have fought for is free rescue operations – otherwise it turns into some kind of trade. This is a conflict of interests and interferes into the real meaning of being rescued. I was one of the first to propose the participation of volunteers in rescue operations. When a person has the equipment and abilities to help, then why shouldn't he do that? Then I would never presume that anyone could think of taking advantage of another person's state of distress…"
English version: Zhivko Stanchev 

Photos:
svoge.bg