The whole public life was out there – on the vast forum, surrounded by a colonnade, where people traded foods and valuable objects, chatted with friends and sent threats to enemies, prayed to the gods and learnt the latest news, cut on stone tiles. Life in Philippopolis, or ancient Plovdiv was no different at all from the one across the other provinces of the Roman Empire. Conquered by the latter in 46 AD, the town blossomed for four full centuries, until the invasion of the barbarians. However, Philippopolis had the time to cover its lands with architectural wealth which still surprises experts at excavations in modern Plovdiv.
"Plovdiv is the largest antique town in Bulgarian lands and the biggest one within the Roman province of Thrace," Plovdiv archaeologist Elena Kesyakova says. "It is a metropolitan city with incredibly rich culture – the shiniest, the most beautiful along the Evrus River, as Roman writers pointed out. Being the capital of ancient Thrace, it hosted the most important public buildings: the central square, the stadium, the theatre, the unique Antique synagogue, the Bishops' Basilica and the engineering facilities. It all comes to show that Philippopolis was the most significant town for Thracians, the way Athens meant everything in Greece and Rome – in the Roman Empire."
Being the commercial and administrative center, the forum was the most important part of the town. It spread on an area of 143 m in length and 136 m in width, in the form of a rectangle.
"The forum was the center of the political, economic, cultural and religious urban life. It is a complex of buildings which covered all these processes," the archaeologist explains. "We have the remains of a temple, a library, a council house - bouleuterion /later on reconstructed into an odeon – a covered theatre/ and also an exedra – a tribune for political and religious speeches. At the same time over 70 shops around prompt of lively trading there."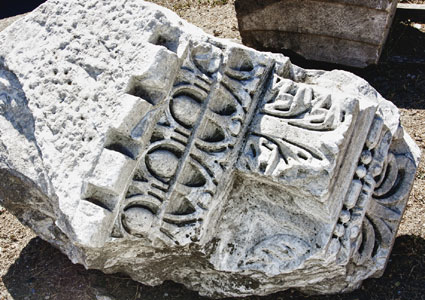 In fact the forum was a center of public life even before the town's conquering by the Romans. It was built in the Hellenic style with perpendicular streets and in its square traders exchanged crop, wood and copper for fine ceramic and bronze vessels from the Italian lands. However, the Romans once again built up the forum with columns in a Doric style, while later on Emperor Hadrian replaced those with marble architecture with rich Corinthian capitals. The public buildings and the emperors' statues were deployed to the north. Despite its beauty and wealth the town was ruined by the Huns and Goths in the 5th c. AD and thick layers of soil covered the magnificent Roman monuments. The architectural findings of the Roman period were uncovered barely during the construction of modern Plovdiv in the 20th c. Unfortunately, a large segment of the antique forum nowadays lies beneath new buildings, but still another segment is displayed alongside columns and the odeon's remains.
"Whenever a person goes by such monuments, especially by restored and socialized ones like the theatre and the stadium, he or she always feels the pride of being an heir of an ancient culture," Elena Kesyakova concludes. "This sense of glorious times is the main thing we need to preserve for the next generations. Hence for our fight to preserve the monuments, since they are our pride. I will end up with a really true thought: one who doesn't recall his past, doesn't have a future."
English version: Zhivko Stanchev 

Photos: oldplovdiv.com