Paintings by three ladies – celebrated names in Bulgarian art - are on display at the Arte gallery in Sofia until 14 June. They are Olga Valnarova, Elza Goeva and Maria Stolarova.
The exhibition is part 1 in a series of expositions, presenting works by talented women painters who have left their mark in Bulgarian art. The works featured in the exposition – landscapes and still lifes – were painted in the period from the mid-20th century down to our day.
As art critic Prof. Chavdar Popov said for Radio Bulgaria, they are all renowned artists, though they may differ in temperament, in style in the subject matter they choose.
"Bringing works by the three artists in one place is a rather tentative endeavour, as what they have in common is that they belong to roughly the same generation. All three are dedicated entirely to art. And of course, to high artistic merit. From that point on come the differences between them.

Olga Valnarova's works presented here are a collection of several exquisite creations – paintings from her last years, really sophisticated poetic flights of fancy on the borderline of the figurative and the abstract, with intonations that go beyond what is visible or figurative even, intricate opuses laid down on canvas. Outstanding works. Elza Goeva – the only artist of the three still alive – is showing her latest works. She is a highly refined painter who seeks to express herself by morphing different hues in tactile texture, with compositions that leave much to the imagination. And, of course, Maria Stolarova is represented by her famous still lifes, inspired by the "a la Franga" style of the National Revival period. Her works are symmetrical, based on aesthetic minimalism, also of excellent quality."

Prof. Chavdar Popov says that the exhibition is a veritable feast for the eyes, an insight into the innermost depths of art. Because in these times we are living in, when there are so many challenges, such an array of visual information that is so difficult to process, it is easy to lose one's way.
"Exhibitions such as this one are, to my mind a spiritual oasis, a breath of pure oxygen. A stopover, where one really and truly can stop to catch one's breath, turnone's gaze inward and outward – to the paintings – and derive genuine pleasure from this communion with remarkable art."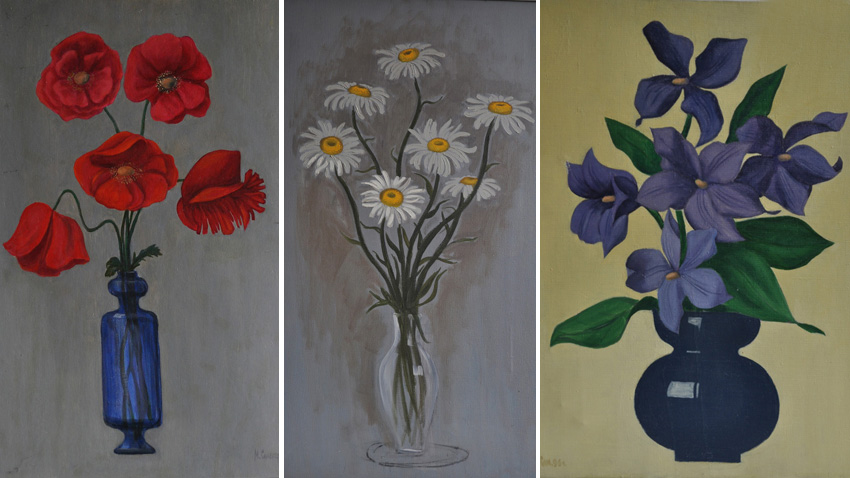 Can it be said that the three ladies fit into the picture of the artistic quests of their own time, but also of ours?
"I think that authentic art can never grow obsolete. Whatever the individual characteristics of each of these painters, they are as relevant today as they were yesterday. I fell sure they will be no less relevant tomorrow."
Prof. Popov says this exhibition is a good way to revert to authentic values and the pure art of painting. Because that is a rare thing nowadays.
"There was a splendid exhibition of works by Vera Nedkova at the National Gallery recently, another outstanding artist. Expositions such as this one play an important role in artistic life because they are a reminder that genuine talent does exist. Though rarely, we can still see and touch it. And that is something that invariably cultivates positive emotions," says Prof. Chavdar Popov.
English version: Milena Daynova
Photos: courtesy of ARTE Gallery