The summer is on, the sun has become scorching and the white clouds or the rainbow that comes up into the sky after a rainy spell create a cheerful mood and an urge to capture these lovely moments with the camera. The talent of a really good photographer shows clearly in taking a photo of a mountain landscape. This idea has guided the organizers of the latest competition for amateur photographers recently popularized in Sofia.
The organizers have resorted to a famous verbal formula used in many folk tales which tell stories about a hero who – set to defeat the dragon, moves through nine mountains to reach the tenth one and win the challenge. The invitation was extended on the social networks back in March and read like this: "The mountain is the magical figure which is always up there and tempts the imagination urging us to make a vertical journey. If you can perceive the bond between you and nature, you are invited to a photographic challenge. We hope that with our photographs we can reach very far: crossing nine mountains to reach the tenth..."
More than 1600 mountaineers, camera in hand, have responded to this appeal sending their visual interpretations of the topic. Twenty-six photos have been selected for an exhibition that is on at Kristal Park in the center of Sofia. There are lovely landscapes on show from the breathtaking southern Bulgarian mountains Rila, the Rhodopes and Pirin. "A competition of this kind has been organized for the first time and is aimed at people who love the mountain", says Nedelcho Kadiev , project manager and one of the organizers of the competition. He himself is a mountain lover and is keen on the art of photography.
"We wanted to get people thinking about what makes a photo really good, whether it's the composition, the light or the angle of view. In reality the photographs that have these features have stood out and have been appreciated highly by the jury. In such a competition, the photographer comes first and how he or she will choose to present a frame is paramount, whether he or she will decide to take a picture of the sunrise or the sunset because the assignment is about photographing landscapes. Light plays a major role, and then comes the very composition of the picture and whether the photographer will use a forefront plan in the photo to direct the eye and achieve an attractive and persuading result. The technical parameters of the camera remain far behind in our ranking. When the jury voted for each of the photographs everything was anonymous. Among the best 23 photos we have ranked first the work of Radoslav Stoilov. Its name is Struggle. Tyuncher Naimov with the Magic of Sunrise is second, and Dobrin Minkov is third with Todorka. The photo Struggle has captured a man climbing a mountain peak in the winter. There must have been a very strong wind beating the man, and his body is clenched because of his enormous effort. I also love taking pictures of lovely mountain landscapes, but I rarely go alone. Usually, while we photographers climb to a peak to capture a good shot most people come back from there. I mean that the photographer has his own priorities, and this distinguishes him or her from most people climbing the mountains just to enjoy the beautiful sights."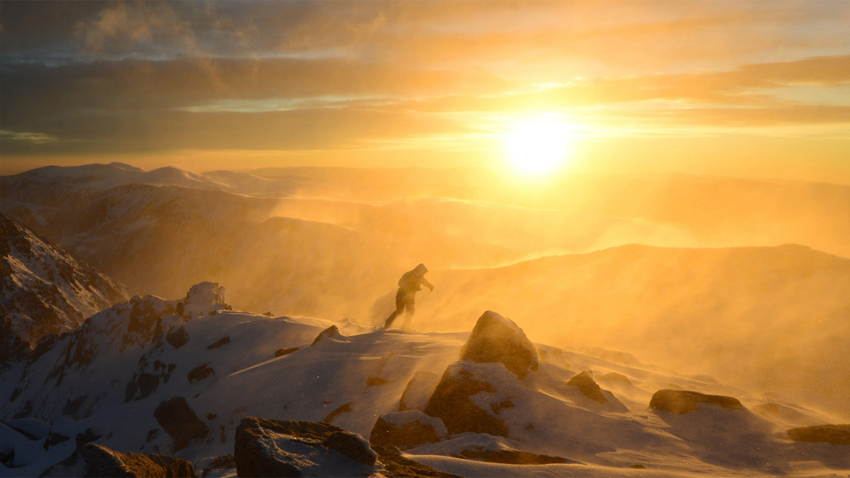 Another breed of photography lovers are children who are keen taking pictures in extreme environments. We have recently seen many cases of injured teens who climb to dangerous places to take a shot that however might put their health and even lives at risk. "This is inexplicable and reckless behavior," says Nedelcho Kadiev and goes on:
"Such reckless photos are taken by teens whose age suggests they can judge the situation properly and evaluate the risks of their actions. While in the open, one should always be careful and mindful of the situation, know where he or she is and plan their time before it becomes dark. Sober, rational thinking is enough to avoid many problems. For us - experienced mountain photographers, the risk is measured. The hardest thing is when we descend from the mountain in the dark. We light up the path with torches and make sure we do not slip because everybody carries a camera and other photographic equipment."
English Daniela Konstantinova
Photo: konkurs.photopavilion.bg