The price of success for one of the 'golden girls' of Bulgarian rhythmic gymnastics means a lot of work, training and gathering of precious experience through time. The success would be unthinkable without the power of love in the souls of the youngest competitors, says coach and long-year gymnast Iliana Raeva. There are also these other 'golden girls' who stay a bit away from the limelight and who contribute no less to the fame and pride of Bulgaria – the choreographers and trainers of the children's and youth folklore dancing formations. The strong applause of the audience is often their biggest award after a good show onstage. Their performances often take place within the frames of the specialized festivals, organized at numerous places across Bulgaria.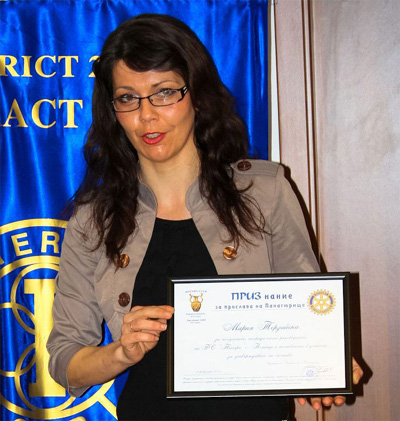 Maria Terzyiska is one of these 'golden girls' of our folklore. She is the head of a children's dancing formation in her native village of Popintsi, not far away from the town of Panagyurishte, Central Bulgaria. I met her at a folklore dance festival and a singing contest in the Sofia region village of Chelopech. Maria's enthusiasm at work always gets transferred to the kids and they always receive some award at the contests. "The success of the dancers is not only due to the headmaster. We are related in our job – children, parents and pedagogues," Maria Terzyiska says and adds:
"One needs the kids first to be willing to go to a rehearsal, in order to create a good dancing formation. They should start with the lessons at a very early age, as the tutor has to teach them everything and also to shape their worldview. That is the solid ground of the success built up. Then you need responsible parents, also supporting the work of the teacher. They have to trust you and this is achieved when they see good work with their children. We try to keep local folklore in its pure and authentic style and the task is not an easy one, as there are not few complicated elements in the folklore of the Sredna Gora region. I try to remind via many things that we come from the area of Panagyurishte. I do require quality in each performance, but the most essential thing is the visual pleasure for the spectator."
Nadya Murdjeva is the other 'golden girl' of our folklore choreography in the city of Plovdiv. She is also happy with her work and the success of the children's dancing formation. I met her at the folklore song contest in the village of Stoletovo, Karlovo Municipality.
"The children are the most important thing. Thanks to them I had the chance to defend my PhD in the sphere of choreography for children," Nadya says and adds:
"It is really tough to teach a small kid to dance and love Bulgarian folklore and music. You plant the seed of that love and it lasts for a lifetime. It costs a lot of efforts and time, but when the ensemble steps up on that stage and you see the result of all those efforts, the pleasure is indescribable. Children are individualities and they are very emotional, so each of them deserves individual attention. It is really hard to teach them to dance, to get the rhythm right, the right posture and the proper emotional expression onstage. It is very difficult at first, but once you've succeeded there comes the satisfaction of the work well done. They are the future of Bulgaria and it is an honor and privilege for me to work with these children."
English version: Zhivko Stanchev 

Photos: private library