Everyday Rositsa Zankova uses shapeless clay to sculpt everlasting beauty with her potter's wheel. She practices this traditional craft in the most artistic Bulgarian village of Oreshak near Troyan, upgrading it with modern techniques and creative ideas.
"That feeling of touching the clay is one of a kind, as it is part of the earth, charged with a lot of positive energy," she says. "When one takes a ball of clay and creates something with his or her own hands, this feeling of satisfaction is unique. It might look easy at first sight, but it actually takes a lot of time until the wanted object is sculpted. People try with their temper and emotion and then realize that clay is not that easy to treat. However, when I help them to sculpt their own figure or dish, their surprise and content go beyond borders. Clay is something exceptional and I would like everyone to have the chance to touch its uniqueness…"
Tracing its roots back to Thracian times, pottery still inspires, especially when it's interweaved with family history.
"My grandfather's clan used to make toys – those were wooden and clay mainly," Rositsa says. "Grandpa even taught me recently to make pigeons, other animals, and whistles through a small mold. My grandma's clan used to make things with the potter's wheel. However, she wasn't allowed even to sit behind it, as women were considered incapable of dealing with such things. At the same time her father would allow her to enter the atelier, as she was the youngest child. She showed me herself how she had sculpted the handles and holes of the pitchers – the vessels with unique shape which keep the water cool and charged with clay minerals, good for the body. Her father also took her to the market to demonstrate her exchange trade with no money used, but clay vessels traded for crop, wheat etc."
Following this artistic spirit of the family, the granddaughter graduated in the ceramics school in the town of Troyan and opened her atelier in the house of her parents in the Mecca of Crafts – the way she calls her own Oreshak. Then she turned into one of the most wanted pottery craftsmen. Her workplace is full of kids who wouldn't want to get dirty at first, but forget about the muddy hands behind the potter's wheel. Parents, tourists and even VIP persons like a former president and a former foreign minister tend to stop by.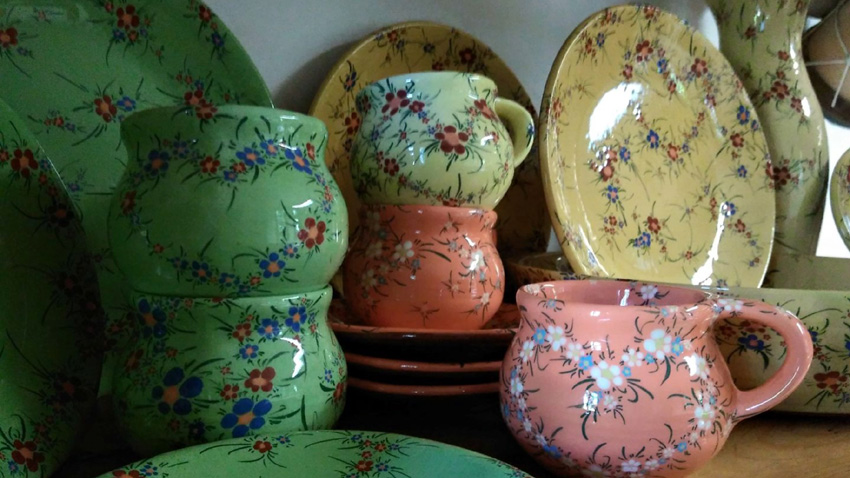 "In my atelier I usually show one of the most ancient pottery techniques," Rositsa Zankova says. "Its name is 'furshova' or 'shnurovidna' /rope-like/, as these ropes were once used to create the biggest clay vessels for keeping the wheat. They used to smoothen those back then, in order to be functional, while nowadays we tend to fold, decorate and print things on them. Many foreigners visit my atelier and some of them are colleagues who would like to learn the traditional Troyan pattern which can be seen on the vessels in most of the taverns in this country. It is made via colored clays, spilled with sticks in the form of drops, flags, eyes, nets, butterflies etc."
The so-called graffito technique is one of the most preferred by the young master – it can be seen even in the mosaics and vessels in ancient Pliska and Preslav. It is performed via taking away the upper layer of bright clay, in order for the dark layer to become visible – the main color of the pattern. Rositsa Zankova uses this technique to draw pictures as well with the traditional Troyan pattern instead of a frame. Thus she elevates an ancient craft into art as a message to the future.
English version:Z hivko Stanchev 

Photos: courtesy of Rositsa Zankova