Windows and Oranges by Peter Kerkelov, performed by Sofia Soloists Chamber Orchestra, conductor Plamen Djouroff
Update Required
To play the media you will need to either update your browser to a recent version or update your
Flash plugin
.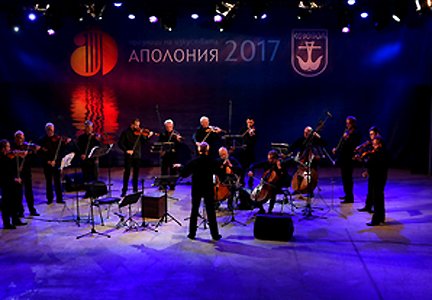 Windows and Oranges by young composer Peter Kerkelov was one of the five music premieres presented at the 33rd edition of Apollonia Festival of Arts held in the Black Sea town of Sozopol from 27 August to 5 September. It was performed by the Sofia Soloists Chamber Orchestra with conductor Plamen Djouroff. The program of the renowned orchestra included another work presented for the first time in Bulgaria – Double Concerto for Bandoneon, Guitar and String Orchestra by Astor Piazzolla. The soloists were Gueorgui Vassilev (guitar) and Krassimir Shterev (bandoneon). Both musicians live and work abroad but they showed regard to the Sozopol audience with their presence.
Other premieres on stage the Amphitheater in the Black Sea town were the shows presented by the Mystery of the Bulgarian Voices choir, Arabesque Ballet Company with Romeo and Juliette, the already mentioned concert of Sofia Soloists and a program of jazz singer Vassil Petrov commemorating Al Jarreau.
Audiences did not miss chamber concerts held at the Museum of Archeology in Sozopol either. The chamber music program of Apollonia opened with a recital of pianist Dora Deliyska. She told us more about her concept: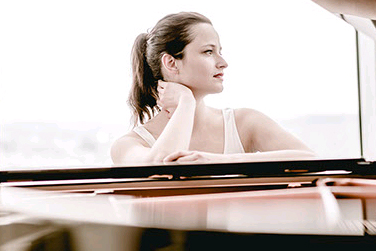 "For me it all started with the symphonies and quartets of Dmitry Shostakovich. I later discovered his piano works and was impressed by his style of composition. In 1950 Shostakovich sat on the jury of a competition for performance of works by Johann Sebastian Bach in Leipzig. He was inspired by Bach and started composing a cycle of preludes and fugues but presented in an innovative way. For many years I researched and analyzed the two cycles – by Bach and by Shostakovich, and was looking for the common points in them. With time I found that the connection between the tonalities is very strong. Nevertheless I did not know how to present my discovery as a concept. The appearance of Chopin in the program was intuitive in a way. He wrote preludes too, but I chose his etudes that added a touch of mildness to the project. I noticed that in the tonalities B-A-C-H /B flat, A, C and H/ the name of Bach appeared. Hence, the name of the project. I have never imagined that this huge material could be integrated into a single program."
Prelude No. 12 in B flat major by J. S. Bach performed by Dora Deliyska, piano
Update Required
To play the media you will need to either update your browser to a recent version or update your
Flash plugin
.
At the chamber music stage on the premises of the Museum of Archeology in Sozopol, the audiences could enjoy the talent and style of Valentin Gerov, Mincho Minchev, Anatoly Krastev and other foremost Bulgarian classical musicians.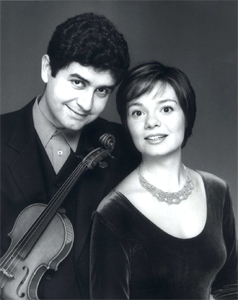 We give here special attention to the duo Lora Chekoratova, piano, and Gueorgui Valtchev, violin. The two musicians have graduated Juilliard School in New York and live and work in the big city. Lora has been active creating projects in New York and inviting Bulgarian instrumentalists and composers for them.
At this year's edition of Apollonia Festival of Arts in Sozopol the two instrumentalists presented a program mixing classical and contemporary works. The chamber duo played works by Bulgarian composer Dobrinka Tabakova who is based in London.
"When we put the program together we aimed to select works that differed in character", said Lora Chekoratova. "So, in the first part we performed classical sonatas by Mozart and Brahms, and in the second part – works by contemporary composers. As Bulgarian musicians based in America, we also love to perform American composers while in Bulgaria. In this case we selected a work by Paul Schoenfield, Four Souvenirs. We also gave special attention to the works of Dobrinka Tabakova: Modetudes, Rodopa and Through the Cold Smoke. We have been working with her for several years and perform her music worldwide. We believe that she is one of the worthy and very talented Bulgarian composers of our time."
Rodopa by Dobrinka Tabakova performed by Lora Chekoratova, piano, and Gueorgui Valtchev, violin
Update Required
To play the media you will need to either update your browser to a recent version or update your
Flash plugin
.
On the jazz music stage of Apollonia the music lovers and guests of the festival could listen to projects presented in Sofia earlier this year. These included Antoni Donchev Trio, Jazzanitza, JP3, Jazz Surpise, The Golden Project, Jazz Cats, Minimum Quartet and Myxtet. The author of the latter is trumpeter Misho Yossifov who said more about the project: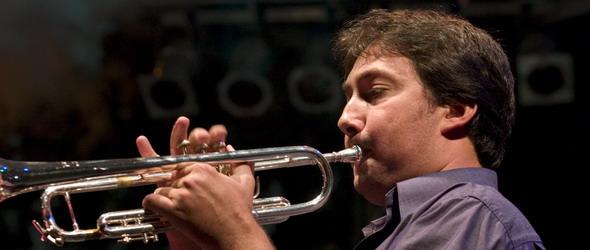 "In the program we performed, almost all the pieces are my compositions. One of them is by our pianist Vassil Spasov, which I liked very much so I 'expropriated' it. Overall, this is music I have written over the years but had not found its place and form of performance. I have imagined the works more like jazz than like a show. What makes the project distinct is the fact that there is no brass, only piano, percussion, bass, guitar and trumpet in it. Myxtet is also interesting for being a multimedia effort. Thanks to Georgi Georgiev and Milena Valnarova, a curious art installation has been created. So I decided to create Myxtet – an open project which I plan to develop in the future."
Saturday Afternoon by Misho Yossifov
Update Required
To play the media you will need to either update your browser to a recent version or update your
Flash plugin
.
English Daniela Konstantinova