Elizabeth Kostova explores the shadows cast by unredeemed evil in Bulgarian history to depict an unburied past. In her new novel she reveals not only the proportions of evil but also but how it can be overcome through the power of courage, nobility and compassion.
Eight years ago the writer saw in her dream a young American woman who comes to Bulgaria and after just an hour's stay has to help an elderly couple in trouble. However she has accidentally kept one of their bags, and finds inside an urn with human ashes. This sets her on a journey tracking an unknown man.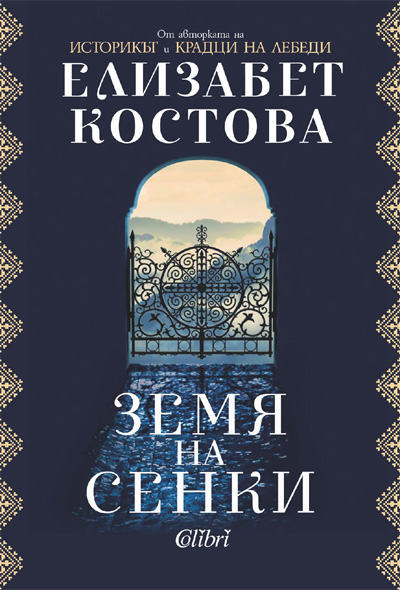 This story, a bizarre gift, Elizabeth Kostova turned into The Shadow Land, her cherished novel about Bulgaria. Its protagonist is a violinist whose fate is reminiscent of the life of Sasho Sladura (1917-1961), a musician killed in the communist concentration camp in the city of Lovech, Central Bulgaria. Unlike him – who survived just a few days in the camp, the novel's protagonist has a long life. The writer was not aware of the musician's story and learned about his tragic fate after she wrote the book. The supernatural forces intervened again when she stood in front of his monument in Plovdiv.
"My protagonist dies in 2006 at the age of 91", Elizabeth Kostova said during a recent presentation of her latest novel to the Bulgarian readers. "I began to think about what he went through. I did think about his generation and what it meant for someone who is like him, an artist and intellectual, in this case a musician, to be caught as an apolitical person in the political machine. And while writing the book I very unexpectedly had the opportunity to visit the ruins of this labor camp. And as many of you know the ruins of this camp like many remains of labor camps are closed to the public essentially, and only rarely slightly memorialized. And when I found myself standing in this ruin, this landscape, I found it tremendously moving and also tremendously empty – as if the whole meaning had been drained from this spot of the Earth. I think that stories help to put meaning back into empty spaces. And in that moment of standing there I realized that I wanted very much to try to bring my character to a similar place. Of course, this was a very intimidating task and I can say now that I gained a lot from listening to first-person narratives - really first-person narratives are oral histories. At the same time I tried to be extremely respectful of people's real stories; I had no desire to coopt a particular real person's story and suffering for the purpose of the novel. So with this very respect I learned everything I'd heard about the situation, the setting, the experiences that people had. And I tried to put that in the context of a lot of love for Bulgaria, my second country, and respect for people's history over the generations."
While writing her novel Elizabeth Kostova reread the gruesome narratives of survivors from Bulgarian concentration camps in Tzvetan Todorov's book Voices from the Gulag: Life and Death in Communist Bulgaria. She even planned to send her full manuscript to the prominent French philosopher of Bulgarian descent but he died 45 days before the release of the novel and this broke her heart.
"In terms of the experience I had learning about the crimes and sufferings of that period, I had been somewhat aware of them from speaking with people and from some reading of history", the writer went on to say. "And of course this was tremendously difficult to read about and write about. For this reason also the novel was deliberately meant to separate light from dark: because at the same time obviously, people's lives went on. So in a way it is a book about memory of pain but it is also a book about joy in survival."
World-acclaimed Elizabeth Kostova whose novels The Historian and Swan Thieves are best-sellers and the latest one The Shadow Land has been winning more and more readers worldwide and among them some curious to travel to Bulgaria, is writing her fourth book. Once again the American writer married to a Bulgarian husband, will put inside a few elements mandatory in her work – the Bulgarian names of her three children and a Bulgarian storyline.
English Daniela Konstantinova