It is getting easier to hate, hurt and offend people and animals and cross the physical boundary of sacred freedom. Some callous individuals show aggression, frustration and inferiority complexes by hitting street dogs in the flank. People are intoxicated with the luck to dispose with power and condemn to death two little lions which were rescued and surrounded by love on the way to their real habitat and gusty life.
However, there are also people who rescue animals such as the volunteers from Let's Adopt! Bulgaria. These people started out with the mission to help homeless animals. Some animals are shot, some are beaten almost to death and some are hit by cars. The animals which are lucky enough to survive are accommodated at the Central Veterinary Clinic. When these animals recover they are sent to foster homes and are waiting there for someone to adopt them. Pet kitten Galka is one of them. It is still looking for its new home and comfortable sofa. The pet went through many surgeries and although it is almost completely blind it would love to cuddle in a warm lap, the members of Let's Adopt! Bulgaria assured.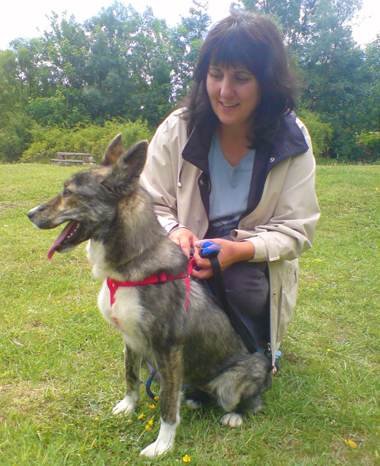 "The animals also have feelings, volunteer Totka Nikolova told Radio Bulgaria. They feel joy and suffer just like us. Besides, pets are our companions.  The people who have pets at home and treat them as family members deserve praise and respect."
Unfortunately, cruelty and deliberate aggression towards the vulnerable street dogs has increased recently.
"People have become extremely faithless and we can witness quite often severe rancor between them, let alone their attitude towards the animals. However, animals are defenseless and can easily become victims of someone's own inferiority complex. We have been witnessing many cases of violence against animals recently. For instance, two months ago a video with a girl from Bulgaria's coastal resort of Kiten maltreating in a disgusting and inhumane manner a pet kitten appeared on the Internet"
Two years ago the Bulgarian Ministry of Interior turned its intention to establish an animal police into an advertising campaign, but nobody has been able to punish these monsters until now. It is well known that in 70% of the cases pets are the first victims of domestic violence and that serial killers show violence and aggression against animals first, before showing violence against people, Yavor Gechev from Four Paws animal foundation once reminded.
"Animal police does not exist, Totka Nikolova said categorically. The Bulgarian Minister of Interior does not share the idea about animal police and does not think that the ministry should allocate such financial resource for this purpose. However, I strongly hope that he would change his opinion and make the establishment of animal police his cause. The establishment of animal police in this country would be the first step towards making our attitude towards animals more humane. The people and the institutions in Bulgaria first started to talk about animal police under the pressure of media which showed many cases of violence against cats, dogs and horses. However, everything remained wishful thinking."
The life and health of the animals in Bulgaria depend on the civic conscience and sensitiveness, just like many other things. Since 2009 Let's Adopt! Bulgaria has taken care of many animals with bad destiny and each one has left a permanent mark in the hearts of the volunteers. However, the volunteers cannot do anything without the help of the Bulgarian people.
We receive help, although not too many people are able to do it, Totka Nikolova says. Sometimes we receive donations worth EUR 1.50. It is very touching to know that some poor people donate small amounts of their meager budgets to save lives. I really hope to see more people wishing to help both people and animals. My experience shows that those who help animals help people, too.
English version: Kostadin Atanasov
Photos:
letsadopt.net