The start was given to the first Bulgarian Presidency of the Council of the EU with an official ceremony at the IvanVazov National Theatre on 11 January. The day was packed with meetings and events, one of which was an interactive exhibition, presenting the Bulgarian alphabet, Bulgarian traditions, art and culture, under the motto "Bulgaria is…"
It was mounted in a designated marquee, put up in the garden in front of the theatre house. On entering, the guests to the gala concert at the National Theatre, as well as representatives of the media from Bulgaria and abroad, were taken on a virtual journey to some of the most picturesque parts of Bulgaria. Standing in the centre of the exhibition space, it is as if one is left all alone, and time slows down, a feeling punctuated by the music of Oratnitsa, the performances of folk singer from the Rhodope region Valya Balkanska and bagpipe player Petar Yanev. Breathtaking photographs present ancient sanctuaries and fortresses, churches and monasteries, the beauty of Bulgarian nature. Landscapes from the mountains Pirin, Rila, Strandzha and the Rhodopes, in combination with traditional rituals like Nestinari dancers on glowing embers, Kukeri and Koledari, illustrate the country's mystique in an inimitable way. Finally, emblematic works are presented by Bulgarian artists, trailblazers in the world of art.
Lilyana Pavlova, Minister for the Bulgarian Presidency of the Council of the EU stated that this is an exposition, showcasing the country in an amazing way:
"The exhibition highlights 8 themes, each one of them adding to the sentence "Bulgaria is…" which each visitor completes for himself."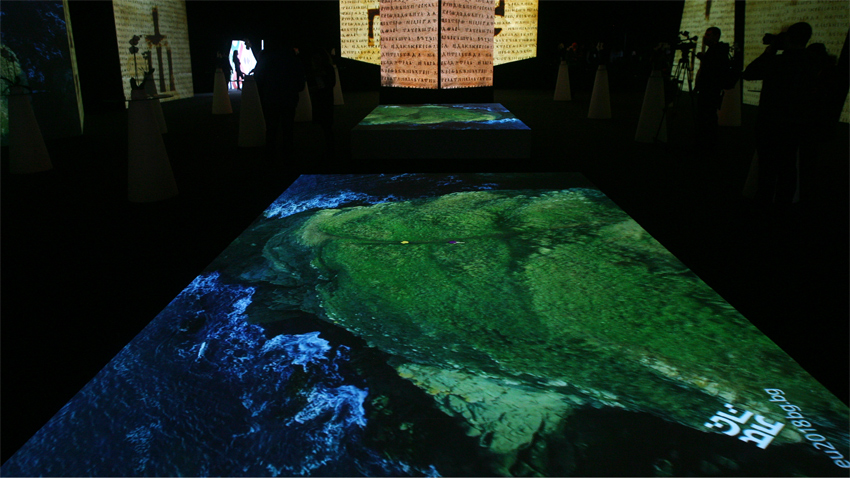 Besides the annual inflow of tourists, Bulgaria is expecting to play host to more than 25,000 guests for the presidency, some of whom will be first-time visitors to the country. An exhibition like this would help them find out more about the country and "visit" different parts of Bulgaria which they would probably be unable to see for themselves while they are here, but which would entice them to come back again.
English version: Milena Daynova
Photos: BGNES