Until 11 March an exhibition in Sofia features Houben Tcherkelov, a Bulgarian artist who lives and works in USA. Tcherkelov's first display in Bulgaria for the past 18 years is under the patronage of Ekaterina Zaharieva, Bulgarian Deputy Prime Minister and Minister of Foreign Affairs. The exhibition has been arranged at the Museum of Contemporary Art – Sofia Arsenal, a subsidiary ofthe National Art Gallery.
The title of the exhibition "Imane" is rich in connotations – the artist has in mind the different meanings of the Bulgarian word depending on which syllable is stressed. It means either "property, possessions" or "treasure". In either case the title strongly supports the content of the display. Houben Tcherkelov presents works with interpretation of paintings by great Bulgarian artists like Ivan Mrkvicka, Jaroslav Vesin, Ivan Milev depicted on old banknotes.
It is only logical to ask the artist whether money inspires him as art. Not so much as art but as a symbol of faith in the value of things, Tcherkelov says. Here is more about his attitude to the past and to the paintings of great Bulgarian masters: They were placed on Bulgarian bills. This is what mattered to me, not the works themselves. In the early 20th Century a decision was made to place their works on bills. I used the images from the bills...to restore their life as paintings.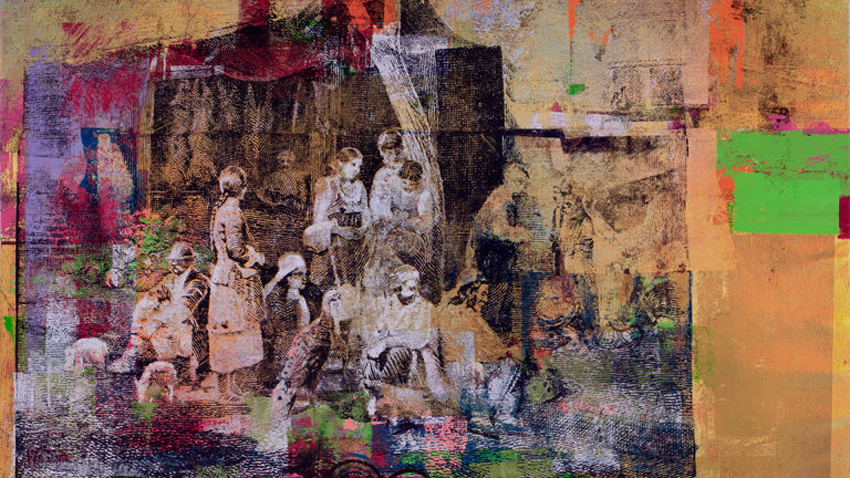 Slava Ivanova, Director of the National Art Gallery, recalls that 2018 is the European Year of Cultural Heritage.
Of course, "Imane" relates to cultural heritage preservation. But more importantly, the display seeks to contribute to its interpretation, and I think Houben lives up to this goal. In his specific way he follows unswervingly his path and I am happy that he has surprised us again with an exhibition featuring imagery that relates to the Bulgarian cultural heritage. Part of the pieces you will see are not only images of banknotes but also of works of art, some of them the possession of the National Art Gallery. To recap, the context of this exhibition is very broad and very rich.

An address on behalf of Minister Ekaterina Zaharieva reads:
It is important that this exhibition is taking place during the Bulgarian Presidency of the Council of EU, because with such events we can show a different face of Bulgaria: a face that makes us proud; which not only preserves but also promotes the most important messages of this country – that the Bulgarians are talented, hard-working and make their contribution into the culture and art of Europe and the world.
Houben Tcherkelov takes a glimpse at the past using banknotes with works of art on them which in the 1920s used to be contemporary art, says critic Nadezhda Dzhakova, curator of the exhibition. They were appreciated by their contemporaries and we can see that they are present today in the history of art. So, the artist puts an important question: where is contemporary art; he is asking whether it is part of our history and what its future will be.
Houben Tcherkelov was born in 1970 in the town of Kardzhali. Since 2000 he has been living and working in New York. According to art critics his works combine in an original way the Bulgarian traditions with American pop art. Despite his tight schedule he tries to travel to Bulgaria more often, at least once a year, and for good occasions like this one – an exhibition. He hopes to find more time and travel more in the country during his visits.
The artist's next project is entitled "120 faces", but Houben Tcherkelov has not revealed any details about it yet.
English Daniela Konstantinova
Photos: sofiaarsenal-mca.org