Have you ever opened a vintage chest to find a roll of cheesecloth, brightly coloured embroidery and fleecy rugs, hand-woven blankets, a different world made of hard work, colour and memories... This is the world young artist Donka Minkovskaya, a Bulgarian artist from Ukraine is going back to. She came to the land of her forefathers to put on an exhibition of her works called "Bessarabia – treasures from granny's old chests". The exposition is organized by the Bessarabian Bulgarians Centre in this country and the Bulgarian Academy of Sciences Institute of Ethnology and Folklore Studies with Ethnographic Museum.
In an interview for Radio Bulgaria Rayna Mandzhukova, one of the founders of the centre, says that the exhibition is connected with an important cause that many Bulgarians from Bessarabia have been working towards – building a bond between our compatriots living in that historical region, with the country of their forefathers – Bulgaria:
"We have known Donka for a long time and have been to exhibitions of her works in Odessa. She has taken part in many expositions. Works by her are on display at the All-Ukrainian Centre of Bulgarian Culture in Odessa. But her dream was to mount an exhibition in Bulgaria – in fact, it is the dream of every Bulgarian artist in Bessarabia to have an exhibition in Bulgaria. Perhaps it is some kind of genetic code."
As Rayna Mandzhukova says, the idea was, on the eve of the 140th anniversary of Bulgaria's liberation from Ottoman domination, to present an artist, whose works throw a bridge back to Bulgarians of old, to the old Bulgarina culture. Donka Minkovskaya works in collage art, but what sets her apart is her use of natural materials only. And not just natural materials, but materials which are part of the past of the Bulgarian nation. Her works often incorporate a distinct ancient red fabric made of hand-woven wool, typical of one village, and one village only – Chiishiya, (now called Gorodnee in Ukraine). A fabric used to tailor traditional clothes from and which is no longer made. But she meticulously collected samples of this fabric from attics and chests so as to keep the memory of the past alive. That is the reason why the organizers of the exhibition have called it "Treasures from granny's old chests".
Here is Rayna Mandzhukovato present Donka Minkovskaya:
"Donka's work is admirable. Her childhood dream was to be an artist. Chiishiya village, where Donka was born and lived, is far from any big towns, that means it is far from any meaningful opportunity for the development of specific talent. It is a far cry from the city, where we have a choice of where our children can go to swim, or to dance, or to do music. Donka, on the other hand realized at a very early age that her attitude to drawing set her apart, but no one took her seriously. She also had serious health problems… But once she graduated secondary school, she decided to apply at university in Odessa to do fine arts. She was admitted, even though her lecturers, with her best interests at heart, advised her to give it up, because she would never be able to take the strain. But she would not give up – she graduated, then started work and is now proud to be able to present her village in Bessarabia in Ukraine, and now – in Bulgaria."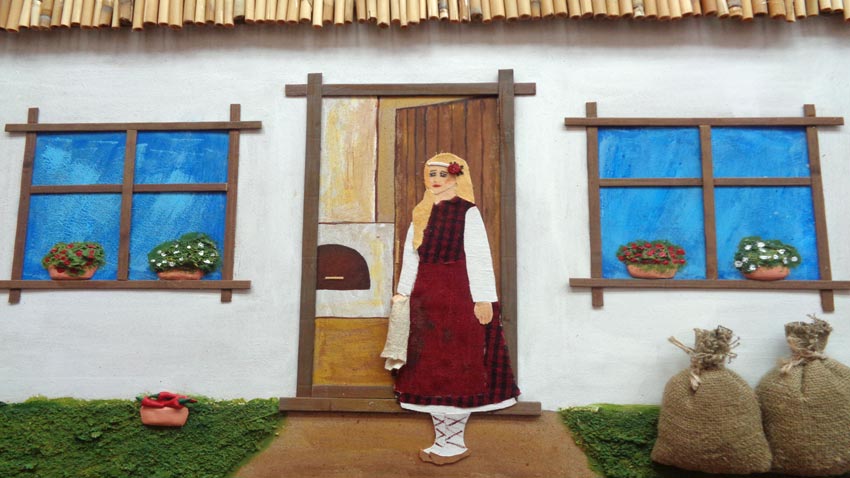 But how did Donka come to be so fond of granny's old trunks and the beautiful clothing of bygone years? She first had to do her thesis at the Odessa art and drama school:
"… I decided to make a collage panneau mural. As to its theme – I decided to make it Bulgarian, after all, I am Bulgarian, my mother, my father are Bulgarian. In our grandmothers' trunks there are so many clothes, so much vintage fabric," says Donka.
She speaks the kind of Bulgarian language that has evolved over centuries far from the land of her forefathers (big waves of Bulgarian emigrants went to Bessarabia after the Russo-Turkish wars, 1768-1774, and especially after the war of 1828-1829). She expresses her gratitude for the support she has been given by her family, by the Bulgarian Centre in Odessa and by the Bulgarian Academy of Sciences Institute of Ethnology and Folklore Studies.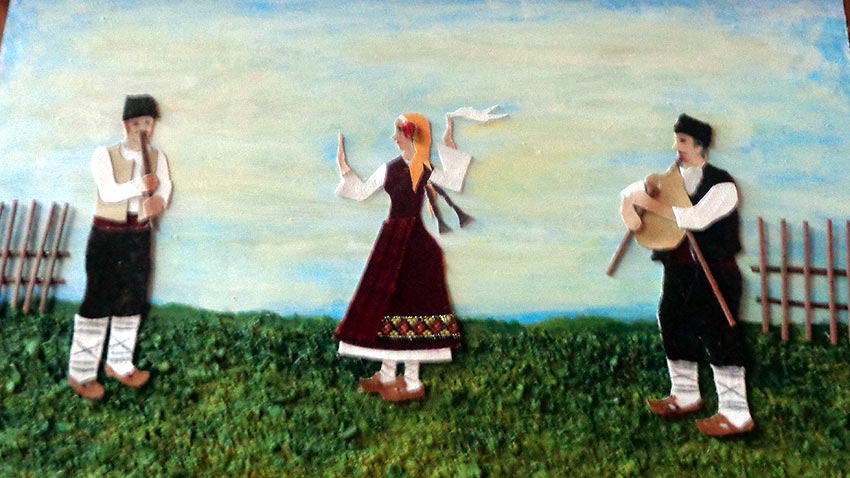 Let us add that the Bessarabian Bulgarians Centre in this country has already applied, on behalf of Donka Minkovskaya, for her to do a master's degree at the National Academy of Arts in Sofia.
English version: Milena Daynova
Photos: Veneta Pavlova