The National History Museum has unveiled a really beautiful and rich exhibition that has been compiled over many years – the collection of Antonio Vasilev, named Goldsmiths' Craft across Bulgarian Lands XVI – XX c. The start was given 25 years ago. Antonio says that a person usually buys a thing or two due to this visual attraction. Later on he or she gets interested in the story of the objects and what they were used for. Then more and more are bought, the collection gets bigger. A collector means a person who is really intrigued and has already no less than 20 – 30 objects bought. Thus the largest and most representative private ethnographic collection of over 500 marvelous samples has been displayed. There are really rare names among those: tepelatsi /decorations for a lady's hat/, or kuni / images on a plaque, which bring happiness/. Here is what Antonio Vasilev said in an interview for RB:
"To sum up, I have selected 50 pieces per year, trying to pick up the higher quality of Bulgarian jewelry. I have always aimed at objects with higher artistic value, since those do attract greater attention for being rarer. I had collected only female belt buckles up till 7 – 8 years ago; then I turned to other kinds of jewelry as well, since the clothing of the Bulgarian woman consisted of many other items too: bracelets, needles, rings, decorations placed over the ears or under the chin, tepelatsi, kuni etc. You can now see all of these at the museum."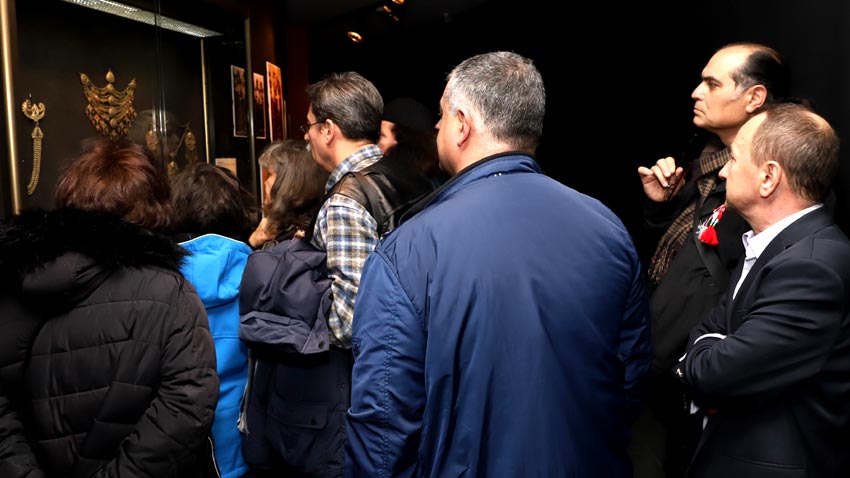 What kinds of schools and workshops were out there for making these works of art?
"Any district city used to accommodate centers or unions of goldsmiths which worked with jewelry," Mr. Vasilev says. "Those used to meet the needs of the population. The Chiprovska is the first school of that kind that we talk about the time during the Bulgarian Renaissance. It is known, but not much data has remained, as the town was ruined after the Chiprovtsi Uprising and the goldsmiths that survived spread across the region to the towns of Vratsa, Kutlovitsa (today's Montana) and Vidin. Thus the Vidin and perhaps the Vratsa schools were born and those were pretty solid. Tatar Pazardjik had also a very famous school, and Veliko Tarnovo, and there were many others across district cities."
Here was what Academician Svetlin Rusev said at the exhibition's unveiling:
''Keeping the tradition and the historical memory is nothing to be afraid of, but it is part of the human personality, the beautiful pride and the tranquility of the Bulgarian spirit. The mastership and rich diversity of the goldsmiths' art have carried in them the soul and self-confidence of the glamorous Bulgarian woman through the centuries…"
"Remarkable!" was the comment of Prof. Valeri Stefanov on the exhibition. He is chair of the Union of Collectors in Bulgaria.
"This exposition really looks like a treasure. However, I'd like the visitors to see a bit more beyond the shine of the treasure. The talent of the Bulgarian people is there, of the people who have inhabited these lands. Antonio actually presents to us part of a festive culture – a culture of dressing and conduct which takes the Bulgarian person outside the frames of everyday life, leading to something different. This is the actual message of the collected artifacts – there is something different, something spiritual that we would all live with. As the New Testament says, the human being lives with something else too – with the spirit. So, this exhibition is a sign of spirituality across Bulgarian lands and the objects Antonio has been collecting are not just some expensive objects, but signs of that artistic spirituality."
Head of the National Museum of History Associate Prof. Boni Petrunova unveiled the exposition with the following words:
"This exhibition is emblematic, showing that the National History Museum will be open in the future for all those people who are concerned about the Bulgarian cultural heritage, who protect it, collect it and popularize it. Hence the name of the museum – National. A few days ago we marked March 3rd – the national Liberation Day. However, this liberation from Ottoman rule, which brings the Bulgarian state back on the map of Europe. But before that to have been possible, the nation had to grow up in its self-confidence; to have gained the financial and psychological power to win its freedom. That is exactly what this display of past time goldsmiths' art shows – a people with a higher level of confidence, which can create beauty, which can dress up the ladies in a beautiful manner – a nation that was just one step away from freedom…"
English version: Zhivko Stanchev 

Photos: Ani Petrova, BNR