Hundreds of people with disabilities from all over Bulgaria organized a protest in front of the Council of Ministers building in Sofia to stand up for their rights and raise demands for a life of dignity. The national protest was triggered by the government's intention of reforming the work of the Medical Expert Commission for Work Capability Assessment which could deprive thousands of their disability pensions and of their jobs.
Under the draft decree, which was withdrawn under pressure from numerous NGOs, a medical work capability assessment will not be enough for obtaining a disability pension and a medical expertise of the ability to work will have to be performed. The aim is for people with milder diseases to be able to work instead of receiving financial assistance and for the money to be rechanneled towards employment. The other proposal involves making the disability pension dependent on the underlying medical condition, though not on the concomitant disabilities. This means benefit cuts, some patients will be deprived of money altogether.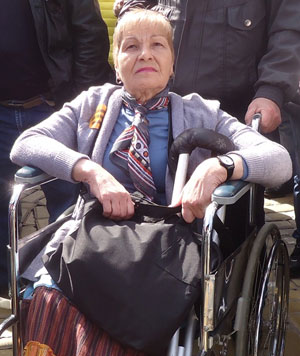 Elena Sarueva is one of 200,000 affected by the reform. Confined to a wheelchair as a result of infantile paralysis, at the age of 69 she has no choice but to work because she cannot survive on a monthly pension of 140 Leva. As a matter of fact, she is one of a lucky few able to pursue any occupational activity. Elena Sarueva came all the way from Krumovgrad to support the people who share the same fate as herself and she says she does not believe the government will abandon the amendments. Here is what she expects of the cabinet:
"First and foremost to raise the incomes of people with disabilities and to create more jobs for them. This will boost their self-esteem and help them live a fuller life. Otherwise they will continue their lives as beggars – that is the way the people I know who are in such a position have to live. And unless someone is there to help them they can never cope. Most people with disabilities spend practically all of their money on medication which is really expensive. And the social supplement which is 10 Leva – what could they possibly buy with it?"
"People with disabilities are among the poorest in Bulgaria, but also in Europe and the world," said at the protest rally Adriana Stoimenova, Deputy Chair of the National Council of Integration of People with Disabilities and added that no single right should be lost in the process of reform, on the contrary reforms should build upon what already exists. Vasil Dolapchiev, chairman of the Union of the Blind adds that themedical expertise of the ability to work should be debated along with a new approach to the compensatory income so people can have more money to cater for medical services, dietetic food, rehabilitation and many other things.
"We need a new employment policy that will guarantee full integration into society," he said addressing the protest. "But that is not going to happen without inclusive education and a revision of recruitment practices. The time has come for the state to compel employers to introduce a quota system that will guarantee employment for people with disabilities at any company. Unless our voice is heard we shall, once again, fill the squares, block main roads and continue our protest making use of all legitimate means."
Hours later Prime Minister Boyko Borissov commented that the cabinet had no intention of harming anyone, but stressed that the corruption schemes involving the Medical Expert Commission for Work Capability Assessment had to be stopped. Commenting on these words, Vasil Dolapchiev said that the problem of fake disability papers was exaggerated and supported his statement with the fact that people with disabilities comprise 15 percent of the population in Europe, whereas in Bulgaria they account for 8 percent. He also asked if there was a single corrupt doctor to have been brought to trial.
Minister of Labour and Social Policy Biser Petkov is to hold talks with representatives of national organizations of people with disabilities.
English version: Milena Daynova