Photographer Radoslav Parvanov will present his patriotic project "I am a Bulgarian" at the "Olympic Games of Photography" in the Italian capital of fashion.
He graduated from the Technical University of Gabrovo, studied photography in Berlin and London and has photographed the cycling tour of Bulgaria. During the international cycling tour of Turkey, among 50 photographers, he won the photography contest with his own final shot. His photographs are published in "National Geographic" and "Economist" and he is the author of the "I am Bulgarian" project. Photographer Radoslav Parvanov is now facing a new challenge: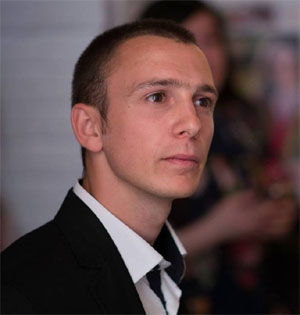 "The great challenge is presenting my patriotic idea not only to Bulgarian but also to an international audience in the capital of fashion Milan on June 9th and 10th. I will participate in a big event, organized by the Bulgarians there and at the same time in the Photo Week. This is one of the most prestigious photography forums in the world and it is no coincidence that my colleagues call it the 'Olympics of Photography'. It is a forum where over 140 events, workshops, projects, exhibitions and initiatives related to photography and photography art from all over the world will be presented and realized. The event is held under the auspices of the Ministry of Culture of Italy and brings together artists from all over the world, putting on display social projects, fashion and cultural ideas like ours."
The exhibition of photos of Bulgarian women in traditional folk costumes by Radoslav Parvanov will attract the audience's attention in Milan on June9 and 10. On Saturday, it will be displayed on the central square in front of Milan's Cathedral (Duomo di Milano). It will be also part of the fourth edition of the "Other Bulgaria" festival organized by the Bulgarians from the "Nashenci" Ensemble in Milan. The photos of the project "I'm a Bulgarian" will be put on display on June10 in Piazza di Lombardiain Milan, as part of the events in the framework of the Photo Week.
The Impressive photos that Radoslav Parvanov will show in the city of fashion are the first part of his patriotic project. His exhibition consists of photographs of 20 girls and two children in Bulgarian folk costumes, shot against the background of 35 cultural and historical sites, as well as natural phenomena from the seven folklore regions of Bulgaria. The beauty of Bulgarian women, the colors of the Bulgarian folk costumes, the colorful embroidery that encodes information about the beliefs of Bulgarians - this is the focus in the photographs of Radoslav Parvanov.
The photographer has already started preparing the sequel to the project. I will show more beautiful places in Bulgaria with new models and more costumes, Radoslav told us and hopes that in the spring of 2019 he would be able to present the whole map of Bulgaria in his photos of young, smiling and ambitious Bulgarian women. They are not professional models, but each one has a link to folklore and folk art, Radoslav says, adding:
"Some of the participants in the project will be together with me in Milan and they will be dressed as they were photographed. We will be able to complete the photo story with live image. Everyone will be able to take photos of them, ask them questions and make a comparison between the exhibition boards and the real young Bulgarian woman. I hope this way the narrative would be complete and memorable. I hope that this event would be a successful, impressive and positive presentation of the work of a few young people who love their homeland and have chosen to respect their traditions and to work and live in Bulgaria."
English: Alexander Markov