On June 29, when the Orthodox Church celebrates the feast day of Sts. Peter and Paul, craftsmen in Bulgaria celebrate their professional holiday. That is why we will take a look at Ekaterina Lachova's atelier today. We talk with her not only about her peculiar ceramic cups but also about small and big moments in life, about the hidden and obvious messages that her works bear.
The ceramic craft atelier was created 12 years ago. Since then Ekaterina Lachova has been tirelessly creating her incredible cups, plates, teapots, kettles, and sugar bowls with an inexhaustible fantasy and a sense of shape and beauty. Wonderful cups can satisfy even the most pretentious customer. The variety is great – small, large, with unusual handles, no handles, round, square, curved… There are cups in the most unimaginable shapes and in all the colors of the rainbow.
"At the beginning, when I created my studio, I had to start from somewhere. At that time I was collecting cups and decided to start from that," Ekaterina says. "I am a person with a sense of humor and a different view of the world. And I wanted my cups to bring people joy. Many times I have seen a spontaneous smile appear on people's faces when they see the cups for the first time."
"Everything emerges at a certain moment and for a certain reason," Ekaterina Lachova says. "Each cup is followed by another one. They are sometimes born from new or old stories but they always have a message".
That is why every cup has its own name and, of course, its own history.
"Some of the cups that became an undisputed hit are in the shape of a heart with a key and a lock. This is the story of a great love in my life," Ekaterina recalls. "At that time I was living in Italy and walking in the streets with my husband, wandering in this love euphoria, I once saw a shop where old pieces of furniture as well as keys, locks and hinges were sold. Upon entering inside I found a lock and a key I liked so much that I decided to celebrate my love through these two symbols. In fact, to this day, they have remained a symbol of love and many people are currently ordering cups with the same idea."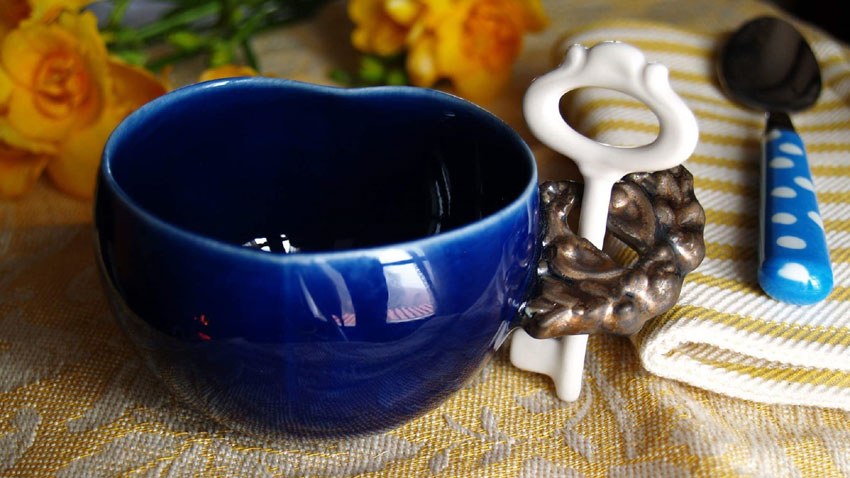 The source of some funny cups is a childhood memory of Ekaterina Lachova. But the story has an unexpected end.
"When I was young, our neighbor used to give me and her daughter an afternoon snack in some red cups with white dots. We were little kids and I thought these cups were huge as I watched them. And those white dots on the red cups made great impression on me. Later when I met my neighbor again, I discovered that the glasses were actually plastic," Ekaterina laughs.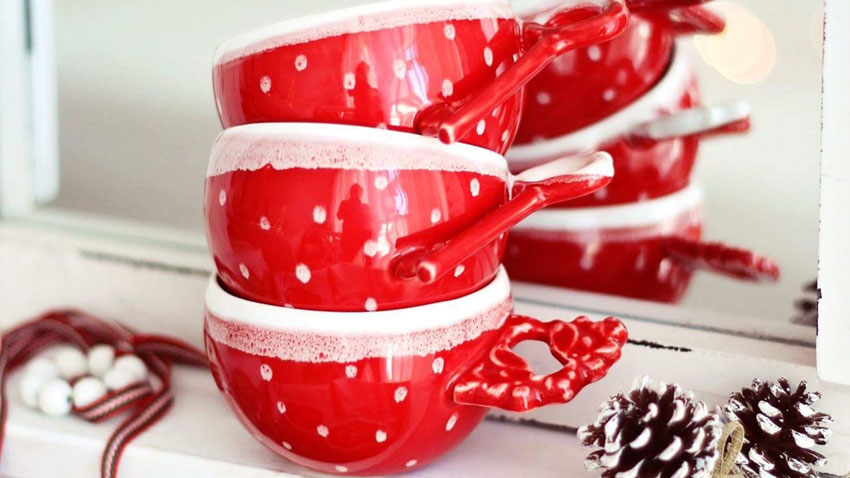 Her idea of wrinkled glasses is also very interesting. Despite their funny shape, they actually carry a very deep message.
"I studied in Paris and there I liked the idea of ​​recycling something originally designed to be thrown away. Plastic cups are such objects. They are used daily by many people and then go into the garbage," Ekaterina says. "And when I saw a crushed cup at the Georges Pompidou Cultural Center, I liked the idea so much that I thought someday I would make my own version. But I did it with the idea that if I changed the material of the object and made it of ceramics, for example, it would no longer be thrown away. Maybe we should think about all the things we throw in the garbage on a daily basis. If we used a little less plastic packaging, bags, etc., it would be much better for nature. But I do not know if people see this idea behind the cup. "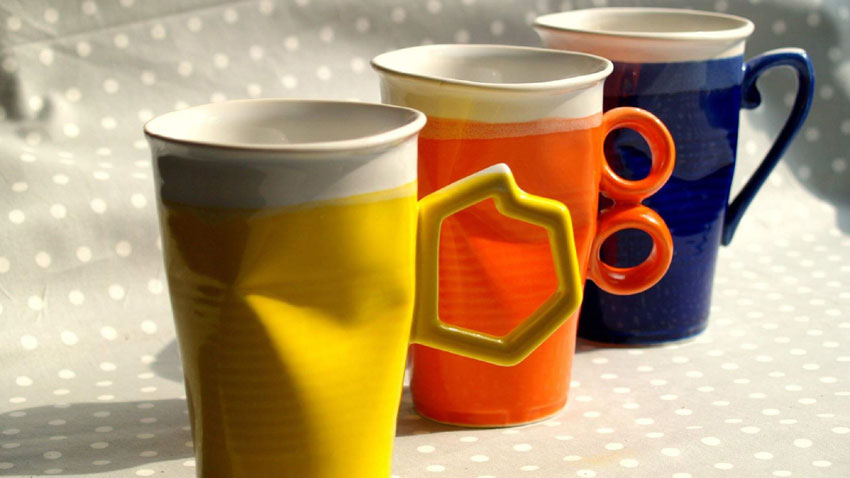 In fact, the cups Ekaterina makes are a big portrait of herself, her various moods and periods of life.
"I miss the moments of solitude when I can do something new. Now I want to think of a new, more ergonomically shaped and comfortable to use cup of tea. It could never be completely new as it would always remind you of something already seen or of some kind of feeling, but I want to have more shapes to complement this rich collection of patterns and sensations," Ekaterina Lachova says and concludes: "The things I create are meant for the little personal moments when a person drinks tea or coffee. They are made for pleasure. I have always had a favorite cup. But every day it's a different one."
English: Alexander Markov
Photos: Courtesy of Ekaterina Lachova