Enthusiastic protectors of the Bulgarian symbols will make a journey to the past, in order to merge with traditions and create handiwork the way previous generations did. They will study the craft from the experienced local people who will transfer them back to the times when it blossomed with the help of their legends and local dialect, also of authentic recipes and songs.
Two Hands, One Heart is the name of the textile workshop, which will welcome the keenest fans of the specific Rhodope rugs and mats mid-August. They will study weaving and embroidery from the best craftsmen of the village of Manastir. The participants will go through the whole process and in their leisure time they will be able to sing authentic songs with the local folklore band.
The Nishan Society and the Hristo Botev 1929 local community center are the project's initiators. Two young people, who opted for a traditional wedding and who decided to get more and more people involved in the keeping of folklore traditions and customs gave the start of the idiea.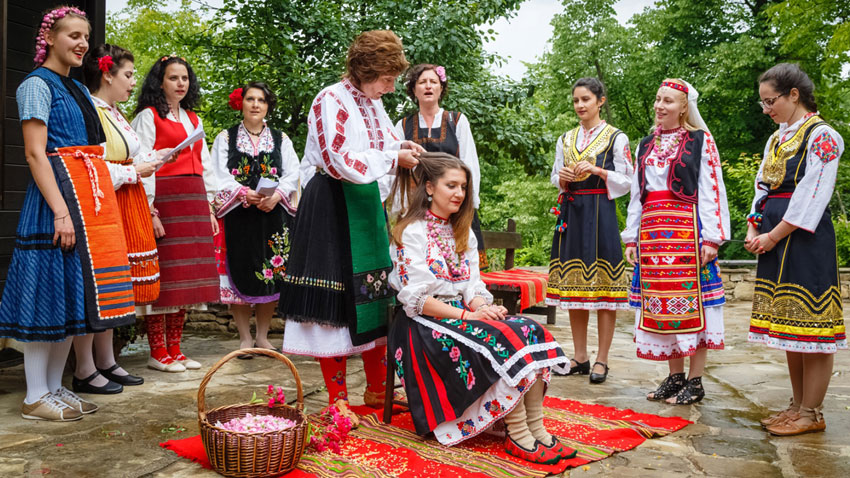 "It all started when I took up folklore dancing a few years ago and I found it more and more interesting with each step," Reneta Georgieva recalls. "I found it curious to wear the traditional costume at first and later on I got interested in the traditions of the different regions. Thus the decision for an old-style wedding came naturally. I met my husband while we were both studying the traditions of the village of Manastir /Monastery/. When we decided that it would be our wedding style, we began to research the different customs. The result was a very emotional wedding and the guests were deeply touched by the experience, by its colors and beauty. That was how we got the inspiration for the establishment of the society, in order to create opportunities to the people to experience traditions via the organizing of traditional weddings, projects, workshops and screenings."
Many people turn their eyes back to the past, as the thread between the generation of their parents and grandparents gets more and more thin and the memory of the traditions seems to fade away. "However, the search for our roots is part of our soul and that is why we can turn to them in one of the most important moments in our life – the wedding," Reneta Georgieva says. That is the reason why we tend to see people in traditional costumes celebrating on vast meadows the wedding of their relatives, repeating century-old rituals.
"The girl used to be covered with red veil, as in that moment of transition she was believed to be exposed to danger," Reneta Georgieva says. "That is why her face would remain hidden behind the veil. Usually the bride's side saw things sadly as the girl was to get separated from them, while the groom's side saw everything with fun and jokes. For instance, when the boy went together with the in-laws to take the girl out of her home, he didn't have to pay money, but overcome no less than three obstacles, in order to prove that he was worthy."
It has turned into some modern trend to wear traditional clothing, to carry the Bulgarian flag and to proclaim yourself a patriot. Even our politicians have started to put on such clothing more and more often recently. However, where is the boundary after which the respect for the past and traditions turns into vulgarity? According to Reneta Georgieva, vulgarity is in the way we behave, not the way we are dressed. "That clothing and the national flag can turn you into a traditional Bulgarian person only if you behave properly," she says and concludes: "It's all about your personality."
English version: Zhivko Stanchev
Photos: private library