A large-scale impressive exhibition has been unveiled at the so-called Palace of Bulgaria's National Arts Gallery. This was indeed the first palace of the Bulgarian princes /Alexander Battenberg and Ferdinand/ after the Liberation of Bulgaria from the Ottoman domination in 1878. Now some of the palace halls are filled with a festive spirit, illuminated by the masterpieces of some of the best Bulgarian artists. They are part of the collection of the famous athlete, collector and donator Boyan Radev. With this exhibition, Radev celebrates the 50th anniversary of his second Olympic title in Graeco-Roman wrestling from Mexico 1968. In the words of the great athlete, on this occasion he placed art first; in the sports world, the Olympic gold anniversary will be celebrated in September.

The participants at the opening ceremony welcomed Boyan Radev and the director of the National Art Gallery, Slava Ivanova.
"The way Boyan Radev was welcomed speaks volumes," said Slava Ivanova. "Of course, the name of Boyan Radev is a symbol. It is a symbol of pride, a symbol of victory, a symbol of assertiveness, a symbol of perseverance and selflessness. This evening is a special holiday for all of us. The National Gallery opens its doors with an exhibition that presents for the first time Boyan Radev's rich collection in such detail. Yes, we have all heard of Boyan Radev, the great champion. Just as he likes to joke, but it's really true: "I'm a national treasure". And yes indeed, he is a national treasure. That's it – twice an Olympic champion, once a world champion. But this is only part of his life in sport. And the rest is dedicated to art. Art fills his life from the moment he first opened his eyes to the moment he is perhaps dreaming of the paintings – all these wonderful works. And we at the National Gallery have always believed that each collection is part of the national exhibition, we keep our doors wide open for this truly brilliant collection."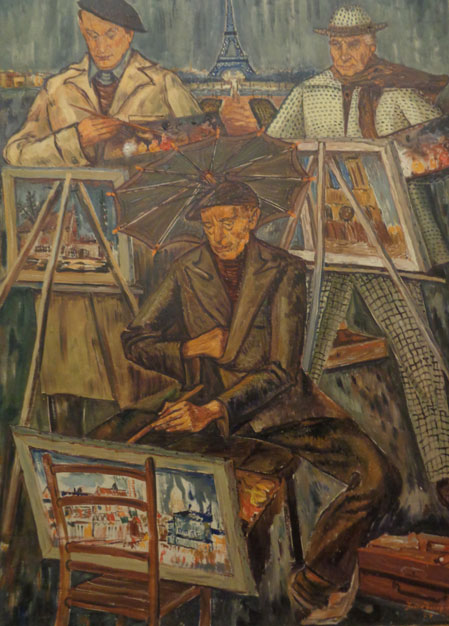 Although it is large in scale, the exhibition has its thematic accents. One of them focuses on the works of the artistic group known as "Baratsite". These were artists Vasil Barakov /1902-1991/, David Perez /1906-1982/ and Zlatyu Boyadzhiev /1903-1986/. In their works the Bulgarian painting tradition in an original way moved to more modern expressive means.
Separate halls are dedicated to a number of magnificent Bulgarian artists who can be called national classics: Vasil Stoilov /1904-1990/, Bencho Obreshkov /1899-1970/, Iliya Petrov /1903-1975/, etc.
Some modernists, such as Georges Papazoff /1894-1972/, worked mainly in France. And a curious detail – the paintings by Sirak Skitnik /Panayot Todorov, 1883-1943/, the first director of the Bulgarian National Radio. Before taking up this post in 1935, he was already known as a painter and writer.
"Dear Bulgarians, I am very proud of you this evening at the opening of my collection of different authors," said Boyan Radev. "Be proud that you are Bulgarian, respect and help yourselves. I have no words of voice my gratitude, I have no words to say more than what the museum director already said. And I wish that more masterpieces like these be shown in this gallery. Also I wish her to be proud of what she is doing for Bulgarian art. I wish all of you good health!"
This will not be the last exhibition of Boyan Radev's collection at the National Arts Gallery. With his characteristic mysterious style of an art collector, he said that there would soon be a new exhibition with just as many paintings but by only one author this time.


English version Rossitsa Petcova
Photos: BGNES and Veneta Pavlova