As if in a treasure chest, Elias Canetti used to keep his childhood experiences from his native town of Ruschuk only to scatter them later where his life storms would take him and to imbue them with even more sensations, insights and wisdom. That's why his words "Everything that I experienced later has already happened in Rustschuk" would turn into the phrase making sense of his entire life experience and heritage for the people who will come and go after him.
With an exhibition revealing crucial points from the life and work of Elias Canetti, the International Society founded in the name of the renowned writer celebrated its 25th anniversary in the State Archives Hall. The organization works to promote Elias Canetti's works by publishing his books and by conducting a literary festival, creative competitions and international forums.
Born in 1905 into a Sephardic Jewish family, the Nobel Laureate spent the first six years of his life in the port town of Rustschuk (present-day Rousse) on the Lower Danube and his childhood was to have a strong impact on his future ideology.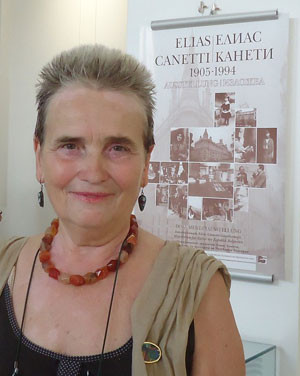 "In 1911, the family moved to Manchester and a year later, after the death of the father, they moved to Zurich and Vienna", says prof. Penka Angelova, founder of the Elias Canetti International Society. "It was in Vienna that Elias Canetti published his first works and chose German as his mother tongue, but in 1937 he was forced to leave Austria because of the Anschluss and the persecution of the Jews. He lived in England during the wartime and long after, and this is reflected in his writer's fate, because it is difficult to earn popularity during a period of war and emigration, and in his case if you're writing in a foreign language for the country. His world career began in the 1960s, when the largest German publishing house Hanser published his books, and in 1981 he received the Nobel Prize for Literature and on the Nobel Prize chair he inscribed the name of his home town of Rustschuk .Quite understandably, Elias Canetti could not identify himself with just one country - he had at least several places where he felt at home and regarded as his spiritual homeland, and Rousse, along with Zurich and Vienna, was one of them".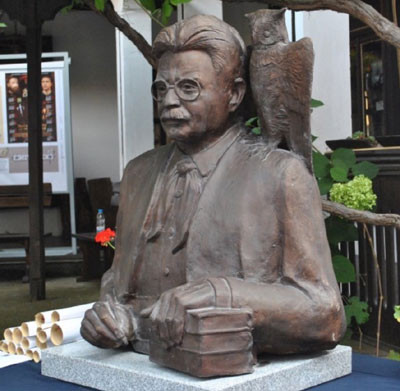 In 1931 Elias Canetti wrote his only novel Auto da Fé (original title Die Blendung, "The Blinding") but his work remained unnoticed by audiences and critics until after World War II. His philosophical work, Crowds and Power (original title Masse und Macht) completed in 1960 embodies the main body of his philosophical beliefs, in which he ponders on human existence, madness, death, and unravels problems related to power and mass movements. The full body of his works – fiction, theatre plays, essays, however, prove to be a preparation for that moment of maturity in which he would systematize the entirety of his life experiences, returning to his childhood in Rustschuk.
"When one reads his autobiography, he understands that Elias Canetti discovered the main symbols of power and masses as early as his childhood", says Prof. Penka Angelova. "So the thinker that he transformed into started to emerge even in these early years in Rousse and the subsequent experience only came to build on and lend an interpretation of the time spent in his hometown".
Elias Canetti began his memoirs with the description of the port town on the Danube where people of different origins lived together and one could hear seven or eight languages spoken in just one day. It was in Rustschuk that he learnt to speak Bulgarian from the young servants arriving to work in the town from the neighbouring villages, there he listened to their stories about the werewolves crossing the icy river Danube in winter and together with them trembled with fear in the corner of the room and also there he monitored the passing of Halley's comet, joining in the excitement of the masses anticipating the end of the world.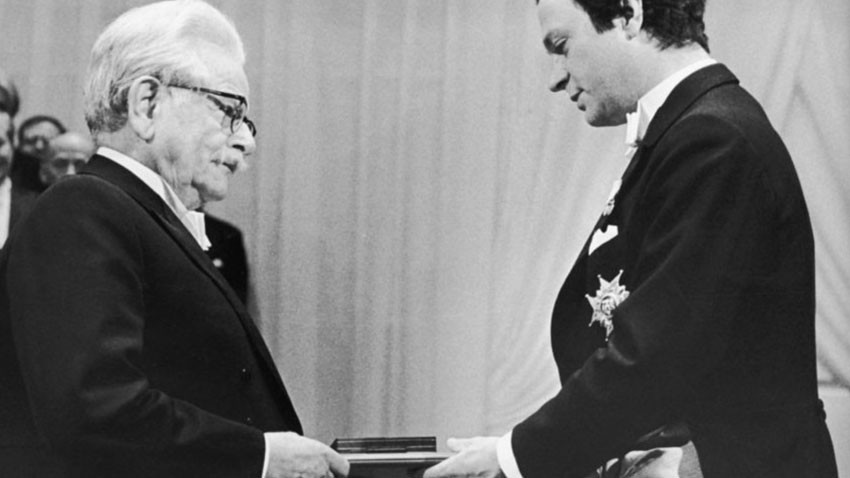 The writer lived to reach the age of 89 - at the age of 76 he received the Nobel Prize for Literature "for writings marked by a broad outlook, a wealth of ideas and artistic power".Elias Canetti is a European citizen born in Bulgaria - he is as much Bulgarian as well as a German and Austrian Nobel laureate", prof. Penka Angelova points out.
English version Rossitsa Petcova
Photos: Diana Tsankova and archive