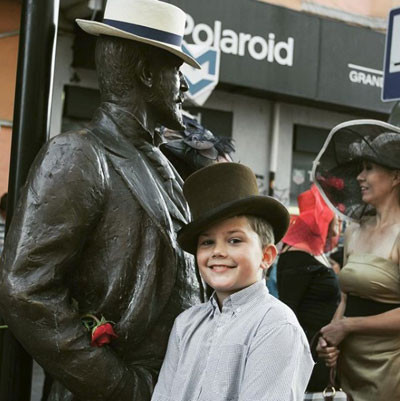 On Saturday, October 6, citizens and guests of Sofia can enjoy a true fairy of colors and forms amidst a sea of smiles and good mood – during the 4th Street Hat Parade. The event is organized by the House of Hats of designer Irina Sardareva and the Sofia History Museum. The bright and elegant march will start at 4 pm at the monument of Aleko Konstantinov, it will walk along the pedestrian zone of the Vitosha Boulevard and will end up in front of the Sofia History Museum.
"The history of the hat in Bulgaria is a sad one. In 1946 it was banned in Bulgaria for ideological reasons. In present days I want to bring it back to life," Irina Sardareva explains. "The Bulgarian lady is a very beautiful woman with this great inner energy. A hat helps her to be different, to transform and play a role, as women have always been actresses – no matter if we admit this or not. So, I have been trying to make each Bulgarian lady smile more in the mirror – they should be able to see themselves from a different perspective, they shouldn't be afraid to be queens."
The Sofia Hat Parade was born in 2017 and has been held twice per year since – in autumn and spring. The idea was not a new one – parades of that kind have been taking place in London, New York, Barcelona etc for a long time. What made Irina Sardareva call on people to put on their favorite official, sports, crazy, Turkish, Indian and any other hats one can think of and step out into the streets?
"I said to myself: 'Why not having such a parade in Sofia too? Are we worse than the others, or we lack that self-confidence?' We create this emotion that has recently lacked in our lives. The parade is an incredible experience, the audience takes pictures with us and people really enjoy the event. We are often asked what we protest against. We don't protest, we give away love. So, I invite everyone confident enough or whoever would like to get confidence, to come and show to one another that we are people who know who they are. A lady that wears a hat knows who she is and is not afraid to show it to the society. Then men have the chance to rediscover the gentleman inside. So, discover yourself, put your hat on and join us!"
When the magic of the parade is done and everyone is in front of the Sofia History Museum, students of music pedagogue Iskra Milkova will give a small concert and a young street musician – Kristoff, will accompany the march. He will add up to the festive mood as well.
"I prepare something new or different each time", Irina Sardareva explains about that surprise. "I want it all to be natural, to come out of the people's ideas. It has to be real. Whoever wants to sing may sing, whoever wants to dance may dance. Let's not be afraid to present ourselves with hats, songs and dances."
There will be awards as well. The Home of Hats will hand over a prize for the most beautiful, original or handmade and decorated hat, while the Sofia History Museum will reward the most elegant lady.
"Love is what matters most in this life – love for your family, for the nature, for the people around. This is my opinion" Irina says. "So, I make the Hat Parade because I think that giving love and positive energy away is what matters most in this life. If we offer a gift to somebody with love, love comes back to us. This is something people tend to forget sometimes. We live through good memories. So, the Hat Parade is for creating good memories and those are… bliss!"
English version: Zhivko Stanchev

Photos: private  archive