The 4th edition of Plovdiv Jazz Fest, which closed in Bulgaria's second biggest city, offered a diverse concert and club programme, an inspiring masterclass, events involving different forms of art, and all this – packed into five festival days, with magnificent events for each one of them.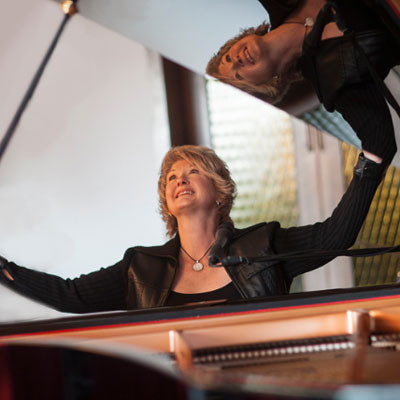 For jazz musicians in Bulgaria festivals like this one are a great opportunity to "keep abreast" of what is happening in the world of jazz, but also to see other musicians, to perform with them. For musicians coming from abroad, whatever their rank, this is frequently the first time they have been able to see for themselves that even in a small country like Bulgaria jazz has its audience and traditions. On the very first night Eliane Elias, one of the top performers of music by Antonio Jobim, raised the bar to an incredible level. The singer and pianist, holder of several Grammies in the 1980s, is a member of an incredible band - Steps Ahead -with whom she has released an album. She then made recordings with her first husband – trumpet player Randy Brecker. Her second husband – bass player Marc Johnson – is by her side in life and on stage, including at the festival in Plovdiv.
Singer and pianist Dena Derose performed with a trio of Bulgarian musicians, who have graduated Prince Claus Conservatoire in Groningen, Holland. She has released 12 albums, and has a great deal of experience as a pedagogue at prestigious universities. At the invitation of Groove Atelier she had a series of masterclasses in this country, one of which in Plovdiv.
Singer and pianist Dena Derose
Update Required
To play the media you will need to either update your browser to a recent version or update your
Flash plugin
.
One of the club concerts featured Hristo Yotsov and Jazz Cats with a project, sequel to their first successful album together released around two years ago.
"This is the project I am currently investing all of my efforts into," Hristo Yotsov says. "The idea came into being spontaneously, thanks to saxophone player Arnau Garrofé Farràs (he has been living in Bulgari's for several years), who has been a great inspiration to me. The "Cats" really hit the nail on the head, so to say – in terms of the relations among us, musicians, the music, the performance. In recent years we all seem to be out to "invent" new systems, new concepts. But this project was centred on jazz, and what we are seeing is that people really do need this angle to the making of music. We presented "Cats-1" at last year's jazz fest in Plovdiv. Playing "Cats-2", again to the audience in Plovdiv, has given me the confidence to say that the new project has the potential necessary for a new album. It should be noted here that thanks to artistic director Miroslava Katsarova, the festival presents the best of the Bulgarian jazz scene, alongside the world's brightest jazz stars. This is an incentive for Bulgarian musicians to believe in themselves that they can take their place side by side with the top musicians in jazz. Plovdiv has always been a jazz hub in Bulgaria, a hub of inspiration. Years ago there use to be a Youth Jazz Meeting, I have played there more times than I can remember. For all of us the city is part of our lives, our music. Of course every one of the other forums has a face of its own, its own territory, and that is a good thing. I think that the Jazz Fest in Plovdiv is one of the most significant forums, in terms of format and programme. The fact it has been picking up speed and expanding is really important to the city, and to Bulgarian music, but it is also important because it integrates the country into the world network of festivals and contacts."
The concert by Theodosii Spassov and Vlatko Stefanovski brought in a huge audience, with loyal fans streaming in from all corners especially for the event. And, of course, there were two long-awaited concerts for which the concert hall was also packed to capacity – the concert by Dave Holland Quartet, featuring Chris Potter, and the concert by Jan Garbarek featuring Trilok Gurtu, legendary names performing at top world festivals for decades.
English version: Milena Daynova