In our high-tech century, information has the power of a deadly bomb, so scientists are using technology from the future to provide the most reliable protection. National security is increasingly dependent on data integrity - not only when it comes to information wars, but also in times of industrial accidents, natural cataclysms, terrorism, etc.
Bulgarian scientists will play an important role in preserving Bulgaria's national security. Currently four universities and three institutes of the Bulgarian Academy of Sciences are building a modern Center for Quantum Communication Competence, Intelligent Security Systems and Risk Management (KVAZAR), which is funded with 7 million euros under a European project. In the next 5 years  scientists will create special software and robotic platforms that will be used in management of crises of all kinds. Specialists from the newly established center will intervene in cases of an earthquake, fire, flood, border tension, terrorist act.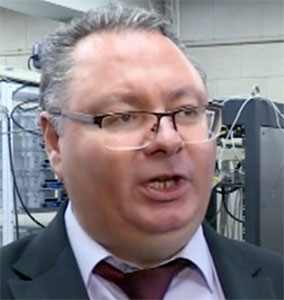 "Quantum cryptography guarantees unprecedented security of the information transmitted and has no analogue in classical cryptography," Prof. Lachezar Georgiev of the Institute for Nuclear Research and Nuclear Energy at BAS says. "It affects all spheres of our social life, but it is most valuable for the protection of state secrets, the security of communications between military and security services, and for banking communications and transactions."
Quantum communications are based on the principles of quantum physics and use the polarization of photons to securely share a secret key between the communicating sides. Copying of the key by a third-party will be impossible as it would mean copying of unknown quantum states, the scientist explains.
"Let us assume that a nuclear power plant or chemical plant accident occurred and pollution of some kind was expected," Prof. Lachezar Georgiev says. "Then with the help of drones and special software, the situation would be assessed and information would be transmitted to the specialized bodies through an encrypted channel. The use of robotic platforms is especially important when it comes to terrorist acts. They would also be used to assess the condition of dams and the resilience of buildings in an earthquake, to predict catastrophic events, and so on."
A laboratory complex equipped with state-of-the-art equipment and three simulation centers will be built in which research will be done and new products will be created in the fields of communication technologies, artificial intelligence, robotics.
"The simulation environment will use a database on the critical area, which will later be updated," the scientist says. "This includes geographic and meteorological information, potential dangers, population density, etc. In addition, a software system will be developed to simulate crisis events and actions that lead to threat neutralization, harm reduction and elimination of negative consequences. There will also be a system of software tools that, based on mathematical models, make risk management in a simulated or real environment easier."
English: Alexander Markov