Update Required
To play the media you will need to either update your browser to a recent version or update your
Flash plugin
.
A little child in the first grade of the Plovdiv school seemed glued to the brass band playing in the Tsar Simeon City Garden. It happened in 1889. Georgi was absolutely fascinated with marches, waltzes, mazurkas and fragments from operas by Verdi, Smetana, Gounod… Later he would too conduct the Guard Orchestra of Sofia and would emerge as an icon of Bulgarian serious music.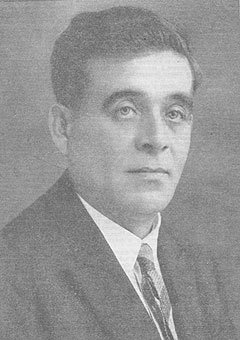 Georgi Atanasov was born in 1882 and was trained at the Bucharest School of Music. At 15 he enrolled in the orchestra of the Bucharest Opera House. He played the trombone but what mattered
was
that the job took him closer to the magnificent art of opera that would become the focus of his professional life. In 1901 he was back to native Plovdiv but not for long. Encouraged and financed by his uncle, he left for Italy. In the town of Rossini, Pesaro, he studied music, conducting and composition for three years
with
the celebrated Pietro Mascagni. As a Maestro di musica graduate from the Rossini Lyceum, he returned to Bulgaria in 1903. His earliest dream was fulfilled as he was appointed to the position of a bandmaster. After a few brief tours to garrisons
in
Southern Bulgaria, he was once again back to Plovdiv. He started writing songs for schools and their choirs, and then operettas that lived to great success in the years that followed.

Gradually, Maestro Georgi Atanasov gained prestige as an experienced musician and turned to the most difficult genre, opera. The first of the six operas that he w
ro
te was a historical drama, Borislav. In 1911 it was presented by the Bulgarian Operatic Society in Sofia. Three years later the Maestro was appointed bandmaster of the Guard Orchestra and moved to the capital city. The talented an
d
ambitious musician worked with dedication for the cultural prosperity of the city of Sofia. He conducted opera shows and as many as ninety symphony concerts in which young talents such as Pancho Vladigerov and Sasha Popov took part. In this way Sofia residents came in touch with the great works of Haydn, Mozart, Beethoven and with classical works by Slavic composers. Georgi Atanasov's rise to fame with his second opera, Gergana composed in 1916. It was based on a poem much loved by Bulgarians, The Spring of the White-Legged, by Petko Slaveykov. Its premiere was in 1917 and the author appeared as conductor.

The opera Gergana is the most popular work of Maestro Atanasov. It has been staged on many occasions in Bulgarian opera houses and its cast has included some of this country's most brilliant singers. It displays wonderful melodies that are close to folklore as well as a diversity of rhythmic patterns and dances in large choral scenes. During the 1920s Maestro Georgi Atanasov came under the influence of new, modern trends coming from West Europe. The new dramatic opera that he wrote, Tsveta or Macedonian Bloody Wedding, took him on a new creative path. As a result two remarkable operatic works emerge
d
– Kosara and Altzek. With them the composer opened up new horizons in the Bulgarian art of opera. A humble man, sometimes embittered by friends and by critics, the Maestro decisively embarked on  the road of 20 c. modernism. Kosara is unique with the mix of impressionism and symbolism, the expression of emotions and with the originality of its plot. Written in 1927 and produced at the Sofia Opera House, it had to face controversial reviews. Some accused Maestro Atanasov of abandoning the national idea and folklore, others wrote he was old-fashioned and his talent was failing him. In fact this was precisely Kosara that displayed to the full his mastery and originality in both melody and drama.


For many years the workaholic composer neglected his health. With many coffee drinks and cigarettes he maintained a tempo presto. He rehearsed or conducted concerts during the day and composed during the night. This hectic schedule resulted in illness and in his early death, at just 50. In the autumn of 1931 he died in Italy where he had gone for treatment. Maestro Georgi Atanasov left a diverse and valuable legacy including his brilliant operas, magnificent examples for his followers.
Translated by Daniela Konstantinova