Covid-19 in Bulgaria: Day 197
публикувано на 20.09.20 в 17:37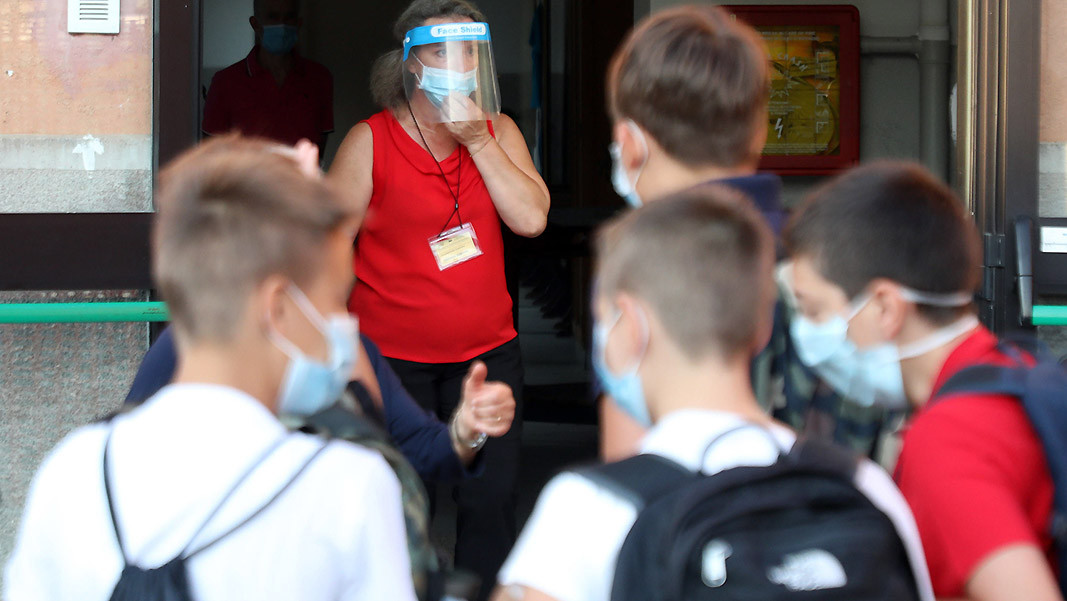 Coronavirus is not a problem for the schools
In schools, coronavirus infection is not a problem, but the issue is the spread of the virus. Schools will not become centers of disease or centers of severe health problems. They will become another channel for the spread of infection to those at risk for the disease. This is what pulmonologist Dr. Alexander Simidchiev has told BNR. The expert recalled that the reproduction number of the virus varies, but on average one patient infects between 1.2 and two new patients. The goal is to bring the infection rate below one, and then the epidemic would go out. That's why physical distancing and wearing masks are used. Coronavirus infection is not harmless, but it is not dramatically severe or particularly dangerous, Dr. Simidchiev said, predicting that the percentage of positive tests would increase. But that doesn't mean infection would be more severe, the pulmonologist said.
Covid-19 situation will be monitored individually for each school
From now on, the Covid-19 situation will be monitored individually for each school, Deputy Minister of Education Tanya Mihaylova has told the BNR. At this stage attendance classes continue. We are monitoring the processes throughout the country. Some of the announced cases currently refer to people who have not yet been to school, which means the infection occurred before the start of the school year," the Deputy Minister said. There are currently 19 quarantined classes, 26 students have tested positive and some of them were not present on the first day of school. Some of the classes where there are students with a positive test who have not been to school were not quarantined. Quarantine is determined by the regional health inspectorates and according to the situation. About 500 students and 40 teachers are currently under quarantine. Just over 500 students have expressed a desire for distance learning. Collecting money from parents for disinfectants is inadmissible, Mihaylova has added.
Scientific team led by Bulgarian isolates molecule blocking Covid-19
University of Pittsburgh School of Medicine researchers, led by a Bulgarian scientist have isolated the smallest biological molecule to date that completely blocks Covid-19. The results of their work were published in one of the most authoritative scientific journals CELL, which publishes objective and scientifically-significant data. The antibody has undergone many tests that prove its effectiveness and safety, and tests are to be performed on humans. Bulgarian Prof. Dimitar Dimitrov is in the core of the important scientific work, BNT reports.
Banking system not severely hit by coronavirus crisis
The banking system has not been directly hit by the coronavirus crisis. At the moment, it is stable and there is no increase in interest rates on loans, banker Levon Hampartzoumian has told bTV.
Comparing the current financial crisis with the one that occurred ten years ago, he said that the previous one was mainly a crisis of liquidity and mistrust between banks and a lack of sufficient capital in the banks themselves. For ten years, these things have improved in such a way that the world's banking and financial systems are more resilient to shocks, even some unpredictable shocks. So today in Bulgaria and around the world banks are in much better health condition in comparison to the previous crisis, Mr. Hampartzoumian added.
He also said that banks were the safest place to keep money. According to Hampartzoumian, the proof of this was that bank savings of Bulgarians have already reached 57 billion dollars.
Newly infected with coronavirus are less than 3% after 2,915 tests
The new cases of Covid-19 established during the past 24 hours are 86, according to data of the Single Information Portal. 2,915 tests have been performed, out of which 2.95% were positive. The highest number of newly-infected people is in Varna district - 19, followed by the capital city of Sofia with 12 cases and Blagoevgrad - 11. In 6 districts, no new cases have been registered.
Out of a total of 18,819 registered cases since the beginning of the pandemic, 4,506 are currently active. 723 people are in hospital. 37 of them are accommodated in intensive care wards. 48 patients recovered in the past 24 hours. With them, the number of those who overcame the infection has already reached 13,585. Two people passed away and the total number of victims has now reached 755.

Compiled by Ivo Ivanov
English: Al. Markov

You can find all stories and important publications related to Covid-19 in Bulgaria at our special coverage section in English.
You can also follow all latest updates on the coronavirus outbreak and all measures in Bulgaria in 9 more languages at Radio Bulgaria.