Update Required
To play the media you will need to either update your browser to a recent version or update your
Flash plugin
.
Sometimes before talking literature we have to talk some politics. Time of parting has descended on Europe in the wake of 2015 Paris attacks and the New Year sex mobs in Cologne, Hamburg and elsewhere, all linked to an unprecedented refugee wave sweeping the continent. Fresh and growing fears have surged that a Muslim invasion has been engineered (according to some) to annihilate the haven of Christian civilization, Europe. Even the Pontiff in the Vatican has resorted to the discourse of worry.
In Bulgaria, the leader of a parliamentary party, predominantly ethnic Turkish DPS, went into hiding in the Turkish Embassy in Sofia after a party row. By doing this he exposed Turkey's attempts to meddle in Bulgaria's political affairs.
Earlier in 2015, the Bulgarian Academy of Sciences hosted the presentation of the Bulgarian translation of Strategic Depth, a book by Turkish Prime Minister Ahmet Davutoglu, seen as a dream for the revival of the Ottoman Empire whose province Bulgaria used to be in the span from 14 to 19 c. 
Love, faith, violence
Time of Parting indeed, but incidentally, the phrase is also the title of a 20 c. classic novel by Anton Donchev, Vreme razdelno in Bulgarian. Written in 1964 and brimming with lovely language, masterly drawn up characters and a compelling plot, the novel tells the story of 17 c. Islamization of Bulgarian Orthodox Christian communities in the locality of Ilindenya in the southern Rhodope Mountains. Apart from revisiting history, it is also a universally relevant story about love, faith, brotherhood, choice, violence and death. In it Bulgarian Christians have to choose – to either convert to Islam and survive, or remain Christian, and die violently. With its grand portrayal of the clash of Islam and Christianity, the novel acquires prominent relevance today.  
How was Time of Parting created? Writer Anton Donchev tells us in an interview for the Bulgarian National Radio stored at the sound archives here:
"Time of Parting actually emerged in a strange way, because I had never scrutinized that segment of history. So my research went on for a long time, more precisely my hesitation, because, look, it is damn hard for one to make a decision and announce something that fascinates him, to other people. I have always felt shy, or rather hesitant over whether things that fascinate me would fascinate others /…/ I have wondered whether in the hard times today one has the moral right to say, look, even though thousands pages of absolutely marvelous texts have been written, even though you have your worries, please, turn the pages of my book – I want to tell you something that you probably never thought of, something worth telling /…/ Now, read and answer me – if you don't, your heart will, because I want you to be fascinated…"
Time of Parting though has all too often been in the spotlight of various public debates. This is perhaps encoded in its title which is about division. It has a proven potential to produce controversy. In the end, all this actually boosts the sales of the novel which by the way has been translated into more than 30 languages.
Row One: Laden with ideology? Not true to history?
Since the collapse of communism in Bulgaria (1989), Time of Parting has been largely interpreted as a political commission given to Anton Donchev by the Communist Party. At that time, and later on, that totalitarian party had been leading campaigns aimed to assimilate ethnic Turks. One method of assimilation was renaming – giving them Bulgarian names. So, the critics of Donchev's novel describe it as a political tool to create division and generate hatred against local ethnic Turks.
Furthermore, the novel was condemned for having little to do with historical fact. Thus it has become part and parcel of an ongoing debate – about how Bulgarians fared in the Ottoman Empire. Some have argued that Bulgaria prospered based on the Empire's huge markets. Others have recalled plenty of evidence about forceful Islamization, annihilation of the country's aristocracy, the weakening of the Orthodox Church plus various atrocities that Bulgarians suffered for centuries under the Turks.
Row Two: Who the hell wrote Time of Parting?
The issue of authorship has not bypassed Time of Parting, either. First of all, it took then-beginner novelist Anton Donchev just 41 days to complete the piece. He went on with his career of a prolific writer of historical novels, but never was he near the grand quality of Time of Parting. This prompted late Yordan Vulchev to guess that the splendid piece was not the work of Communist Party darling Donchev. A hypothesis was launched that the novel was actually written by Bulgaria's most prominent writer of historical novels prior to World War 2, Mrs. Fanny Popova-Mutafova.  The talented storyteller had very hard times after the communists took over in the 1940s, as they refused to publish her works, and brought her to a point of starvation. So it could be that she sold the manuscript of Time of Parting to Anton Donchev. This story is absolutely exciting but for the time being, no one has made a viable comparative study of the two writers and their writing styles. Unless this is done and robust (including statistical) linguistic proof is provided pointing to Mutafova as the author, the rightful author remains Academician Anton Donchev. 
Row Three: What on earth sent Time of Violence to top Bulgaria's movie charts?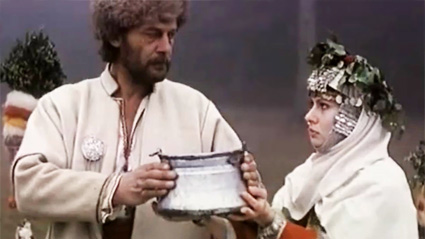 In 1988, Time of Parting was made into a movie and was sold on western markets with the name Time of Violence. Leading film director and master of epic Ludmil Staikov narrated a grand visual story in three parts largely based on the novel. Some of Bulgaria's most brilliant actors starred in the screen adaption. A glimpse at how the adaptation's shooting began – here is film director Ludmil Staykov.
"Shooting the film began with enthusiasm and love for one of the most emblematic works in Bulgarian literature. My desire and the desire of the crew committed to the film, was to remain as loyal as possible to this remarkable work, especially having in mind its enormous popularity".
But, there is always a "but" with Time of Parting! The movie was presented to audiences at a very special moment – when the Communist Party was being involved in yet another attempt to assimilate Bulgaria's ethnic Turks. It was not just renaming but coupled with forceful emigration to Turkey. This has spoilt the reputation of an otherwise good movie: but only in the eyes of critics, it seems.
Because in 2015, Ludmil Staikov's epic made a spectacular comeback, and produced a fresh row. It was named Best Bulgarian Picture according to the audience, in the entire 100-year history of Bulgarian cinema. This took place in a major poll held by the Bulgarian National Television. Time of Violence snatched 44.38% of the vote leaving behind internationally acclaimed The Goat's Horn with 33.7% (that incidentally, explores quite similar themes). This was a surprising turn, and many film critics started blaming the audience (!) for being indoctrinated with anti-Turkish sentiments. This was the 2015 Time of Parting row. I wonder what comes next.
* * *
In 2002, the 16th edition of Time of Parting was released on the book market in Bulgaria. Poet and publisher Ivan Granitski explained how that edition is special:
"This edition is unique and different from the previous ones. It is the 16th and contains a supplement, a special chapter featuring quotes from about one hundred leading literary scholars and brainworkers who have been talking about Anton Donchev's work /…/ since it was first published in the 1960s. And a piece of praise in a Swedish newspaper actually describes the novel as one worthy of the Nobel Prize".
What do historians think of Anton Donchev? Prof. Andrey Pantev's answer:
"Starting in the mid-20 c., a silent and fierce dispute has been on between history and literature over veracity. Regrettably, as a historian I must admit that for the time being, literature has prevailed by still creating more lasting and comprehensive notions about the past compared to professional historiography. In the meanwhile there is also a mutual animosity between historians and writers as much as the latter are accused of excessive imagination and the former of excessive flatness. Anton Donchev though reconciles these two great assets /…/, and no one from my guild has dared to question his historical competence detailed to pinpoint accuracy, and in this respect he enjoys an often reluctant respect among professional historians. In this sense, I can say that he has done a great job that will most probably be completed during this century – a new reconciliation of literature and history".
To close this installment of Intense Literature, we have to admit that Time of Parting by Anton Donchev has been a widely-read and acclaimed novel for 51 years now. It has had 30 editions and has sold 1.5 million copies. Removed from various political contexts, it remains a piece with superb literary quality, and there is, I think, a certain fragile consensus over this issue.