Glozhene Monastery rises majestically under the awesome peak of Kamenen Lisets in the Balkan Range. Virtually perched on the rocky slopes of the Lisets ridge, the monastery is more reminiscent of a stronghold than of a spiritual center.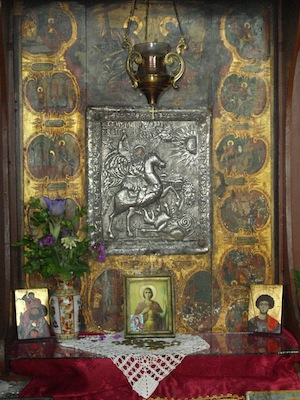 More about it from Assoc. Prof. Dr Pavel Pavlov from the Faculty of Theology of St. Kliment Ohridski University of Sofia:
"This is one of the most impressive Bulgarian monasteries. There is little historical evidence about it. According to legend it was founded in 13 c. and is related to the name of Prince Georgi Glozh. This was during the reign of Tsar Ivan Asen II, when the Second Bulgarian Kingdom prospered. At that time many monasteries lived through their heyday and many new ones were founded. Written evidence tells us that after the collapse of Kievan Rus', Prince Glozh persecuted by Tatars sought refuge in the Bulgarian Kingdom. He founded the village of Glozhene along the valley of the River Vit and built a monastery. The choice of this quiet and secluded place was predetermined by the icon of St. George which on several occasions stood on this scenic rock terrace. The monastery has a tiny yard to fit the area of the rock but is otherwise absolutely stunning."
Assoc. Prof. Pavlov says more about the literary and educational activities at the monastery:
"Apart from their religious obligations all Bulgarian monasteries were also involved in literary activity and education, especially in the era before book printing. During that time books were few, they had genre restraints and were created in monasteries. By rule monasteries maintained calligraphy schools where texts were written, translated and copied. Like all monasteries in 13 and 14 c. Glozhene Monastery was involved in literary and educational activity. In the late Ottoman period the monastery had several convents and a school with teachers, mostly monks. It belongs to the Balkan Range monasteries where manuscripts were written and bound even after book printing emerged. Glozhene and Etropole monasteries are known to have been the last such centers."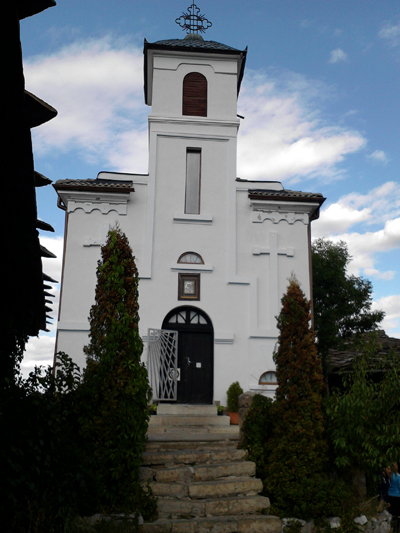 Assoc. Prof. Pavel Pavlov explains that "in the early 20 c. during the strong quakes, especially the Chirpan one, the old church with its foundations dated to 13 c. collapsed. A new one was built to replace it that was completed in 1930. Surviving church plate includes two reliquaries with relic particles of St. George, St. Tryphon and St. Panteleimon, an ostensory and two old seals. The biggest relic is the wonderworking icon of St. George."
Almost nothing has survived from the medieval frescos and the iconostasis. Part of the monastery complex is the museum of Vasil Drumev, Assoc. Prof. Pavel Pavlov explains:
"This is Kliment of Tarnovo, Kliment Drumev or Vasil Drumev, as he is better known. Ne was Metropolitan of Tarnovo, and was exiled to this monastery by the government of Stefan Stambolov in 1893 following a speech which was condemned. There was also political motivation in the story because Kliment of Tarnovo served as prime minister of Bulgaria for short periods. It was severe punishment for him to live for about one year away from any political activity."
What about revolutionary activity in the monastery? This is a good question to ask given that there is a hiding place there of Bulgaria's Apostle of Freedom Vasil Levski.
"The priests including hierodeacon Ignatius (Vasil Levski) used to be great patriots", says Assoc. Prof. Pavel Pavlov. "However it is absurd to associate monasteries with revolutionary activity in the main. Glozhene Monastery attracted many people while its Father Superior was Archimandrite Euthimius, a spiritual leader, and a famous doctor recognized as one of the first Bulgarian surgeons of modern time. While in the early 1870s hierodeacon Ignatius – the Apostle of Freedom, was touring Bulgaria to raise the freedom-loving spirit of Bulgarians he most probably visited this monastery. However it would be wrong to lay an emphasis on such kind of activities. Instead we should bear in mind the huge meaning and importance of any of Bulgaria's monasteries."

We have to agree with Assoc. Prof. Pavel Pavlov because it is an indisputable fact that the Bulgarian monasteries have always been a cradle of literature and learning and guardians of the Bulgarian spiritual traditions.
English Daniela Konstantinova
Photos: Svetlana Dimitrova