"I do not remember a moment in my life when I wanted to become something other than an artist. I think that since my earliest childhood I have known this was my vocation," artist Maria Ilieva says. She is a sophisticated and delicate young woman whose paintings captivate with incredible detail and realism of the image. She is a multifaceted artist. Under her brush fabulous children's book illustrations, colorful still-life paintings, landscape paintings and the most gentle feminine portraits are born.
Maria Ilieva graduated from the National Art Academy in Sofia, specializing in mural painting and in 1996 she and her sister participated in the painting of the crypt of the Russian Church in Sofia.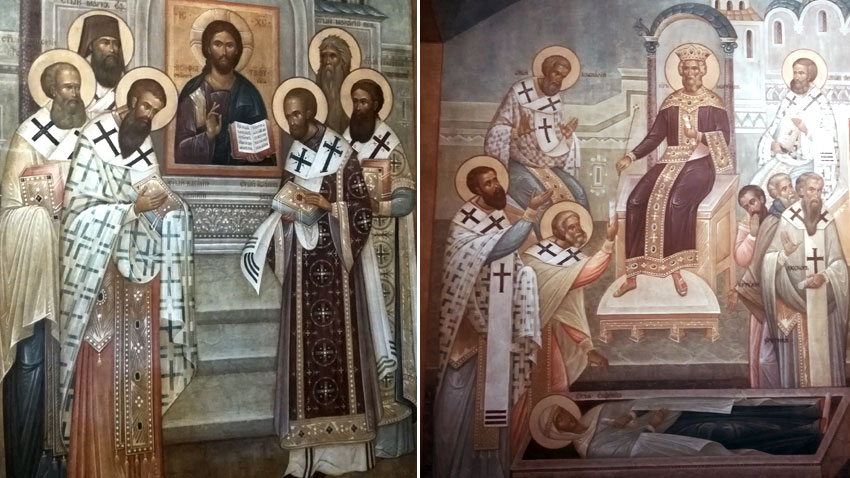 "This was a very interesting project," Maria says. "It was entrusted to a very talented nun-artist Magdalina of the Knyazhevo Monastery, and we were chosen to be part of her team. We used mixed technique and mixed the paint with a special egg emulsion, made according to a secret recipe. From Sister Magdalina we learned incredibly much about icon-painting. She was a student of Iliya Beshkov and Russian icon-painter Nikolay Shelehov. She made us work in a translucent and gentle way, using lovely soft tones."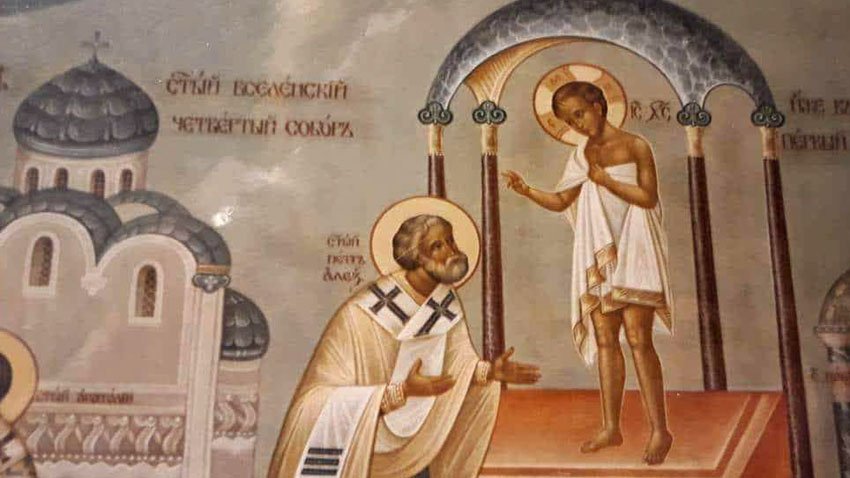 Maria would adopt this tenderness and softness of the images and use it later in her paintings of traditional Bulgarian folk costumes. This happened in 2007 and before that she worked on magnificent murals and other projects:
"In 1997, I was looking for a suitable place to do my diploma work," Maria Ilieva says about another unique mural work of hers. "I sought assistance from the then Ambassador of Russia to Bulgaria Alexander Avdeyev and he gave me one of the walls in the school to the embassy of Russia. I worked for 7 months there. The history classroom, where I depicted the Bulgarian and Russian baptizers - Saint Knyaz Boris and Saint Knyaz Vladimir and the Nativity scene has been turned into a museum of the school since then."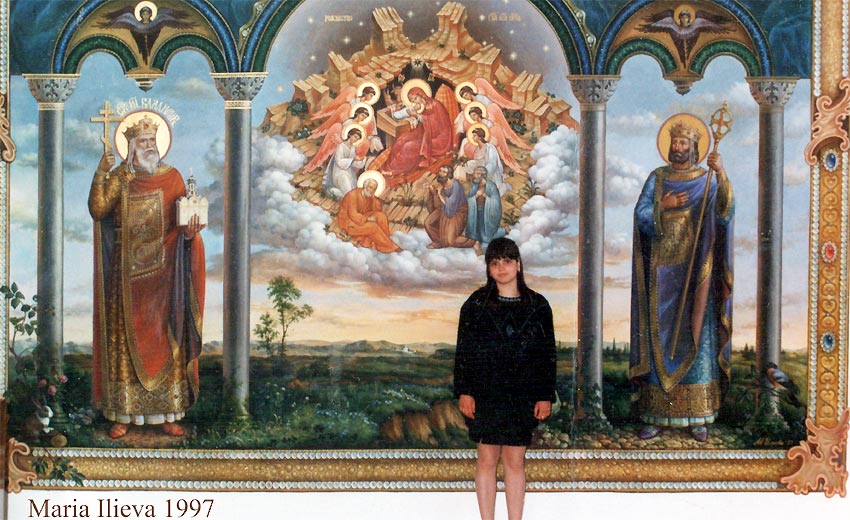 Bulgarian women in the paintings of Maria Ilieva are captivating, breathtaking, and strikingly beautiful. The first painting of a girl in a national dress was rejected by the gallery where the artist usually put her artwork on display and Maria decided that this would not work for her. But after a while, she made a second attempt and that painting was immediately sold. This gave Maria an incentive to continue. It is this series of paintings of Bulgarian women in folk costumes as personification of innocence, purity, love and beauty that transformed Maria Ilieva into one of the most recognizable contemporary Bulgarian artist, with her own, inimitable style. The impressive portraits depicting female beauty and tenderness seem to be alive: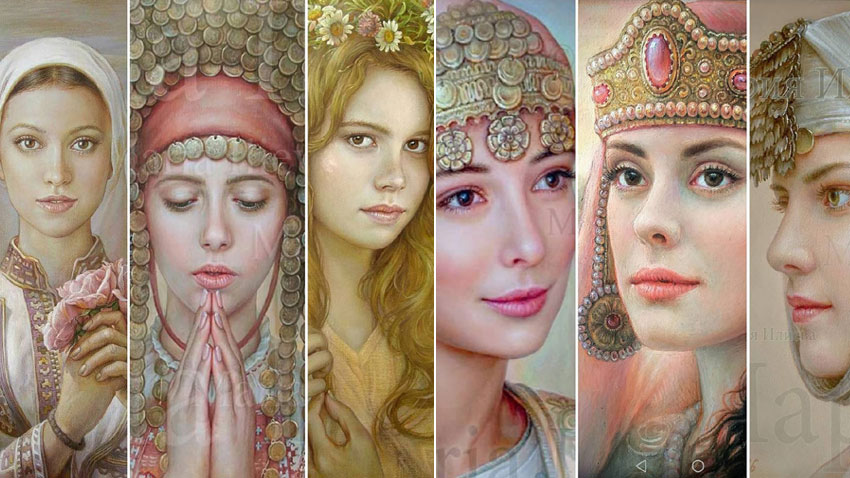 "It takes a long time to achieve such serious details. It is difficult to make the skin of the face appear translucent or the eyes to shine. It is quite difficult to paint a mouth. I want to soften the shadows of the face and to emphasize the best in a portrait," Maria Ilieva tells us about the difficulties she faced.
The first models of the artist were her two daughters and their friends. After that, Maria started selecting her models on the Internet, and then orders from all over the world kept coming. The young woman's works are owned by private collectors in Germany, Great Britain, France, Japan, Russia and the United States:
"It is interesting that many of our compatriots abroad, led by nostalgic feelings, turn to me and ask me to paint women, their daughters or themselves in folk costumes. So far, my work has made me meet many wonderful people," says Maria Ilieva and adds that everywhere in the world the image of the Bulgarian woman conquers the hearts of viewers and stays forever in their mind.
"I find shortcomings in my work very often and I am constantly comparing it to that of the best world artists at the moment and I see that there is still much to be done," Maria Ilieva is critical of herself. "In order to make a living as an artist in Bulgaria one needs to be very good. It's hard but I'm very happy that I continue to paint, and I hope in the future there will be more people who will get to know and like my works," Maria adds.
English: Alexander Markov
Photos: Desislava Semkovska; Courtesy of Maria Ilieva