"Painter Vasil Goranov is a fortunate exception, because he has the gift to feel the history and recreate skillfully its key events and glorious heroes, adding to the work of letters his masterful expressions of brush", Bulgarian historian Academician Georgi Markov once said about him. Vasil Goranov started to draw historical painting after a conversation with a group of children ten years ago. Back then the Bulgarian painter asked the kids whether they knew who Vasil Ivanov Kunchev (Vasil Levski) was. Nine out of ten children did not answer correctly. They did not know other popular personalities from the Bulgarian national revival such as Zahari Stoyanov and Hristo Botev either.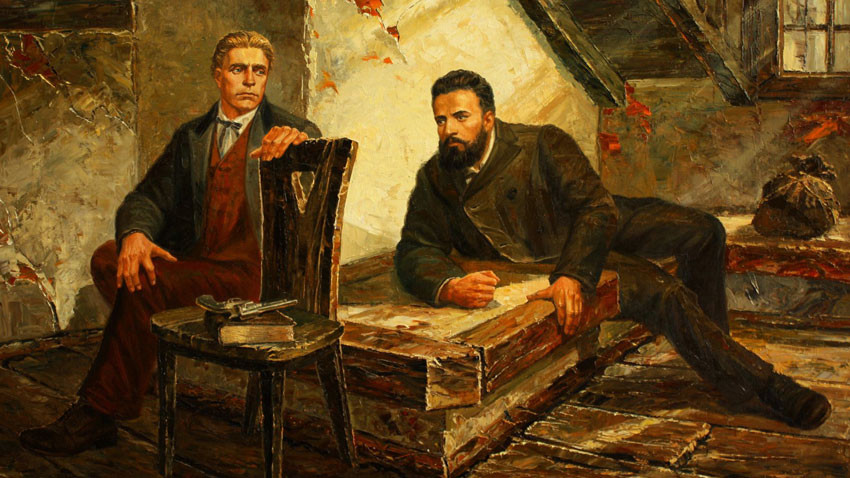 This was in fact the turning point, Vasil Goranov told Radio Bulgaria. Then, I realized that the Bulgarian audience needs to find its reference points. Bulgaria is a country with glorious history and glorious personalities and it must be rediscovered in a new way, it must match the eyesight and the hearing of the modern people. We all know that the world is constantly changing. That is why I decided to eternalize the great and the glorious moments of Bulgaria's century-old history in large paintings, in order to boost the confidence of the Bulgarians.
Vasil Goranov's paintings in historical romanticism style were included in the history textbooks. They decorate calendars and covers of scientific works. Is this the way the paintings of contemporary artists to reach children and a broader audience?
Reading and memorizing the analyses of the historians in the textbooks and seeing a colored and three-dimensional painting, which takes you to a different historical period, are two completely different things, Vasil Goranov went on to  say. This is one of the purposes of these paintings- to get as close as possible to the contemporary people, who do not have too much time to read and analyze large historical writings and novels. The contemporary audience is very intelligent and demanding and we must be very honest and sincere with it, in order to get back the same attitude.

Vasil Goranov's works are a result of the collaboration with many people. He worked with artists who make reproductions of paintings after spending years studying archives and archaeological excavations to find out how people dressed, how they were armed and how they looked. Painter Vasil Goranov also used old engravings and medieval paintings.
This is how I make my contemporary personalities, Vasil Goranov explains. These paintings must boost the confidence of the modern people and at the same time they must be authentic, because painting elements from the Bulgarian history is a great responsibility. We must not mislead anyone and must try to make everything as authentic as possible.

Why contemporary enlighteners are different from those of the past?
This is so, because time has changed. Botev, Levski and the other great national revival figures lived in completely different time. Just imagine for a while your life without a radio and television. Imagine you live in time when books, poetry and novels are your window to the outside world. Back then the role of the national enlighteners was even more difficult. Today we are flooded with information and everyone can choose what to believe in. The Bulgarians are wonderful and intelligent people who preserved their country's name for such a long time. We are just going through a difficult period and are slightly confused. Perhaps, we are not united enough now, in order to move forward, but history shows that we always manage to find the right way, to gather together and fulfill our goals. The Bulgarian people must look for their place in Europe with a lot of confidence. We definitely know how to survive and overcome the challenges of time.
Art always balances between material and spiritual. It creates new worlds and allows people to think and develop in the right direction. History always comes alive in the paintings of the great artists.
English version: Kostadin Atanasov
Photos: private library