The presentation of the book "Dan Kolov in the Arena" by Dimo Todorov brought together famous Bulgarian wrestlers, including Alexander Tomov – 5-time world and European champion, Petar Kirov - 2-time Olympic, 3-time world and 4-time European champion and Armen Nazaryan – 2-time Olympic and 3-time world champion. In the years of transition a number of national heroes have fallen into oblivion and that is why "Dan Kolov in the Arena" comes to fill this void. The book tells the life story and recounts the sporting successes of the famous Bulgarian wrestler, and features memories and archive paper clippings. It is the story of an ordinary village boy who reached the world wrestling arena.
It was thanks to Dan Kolov that Bulgaria's name was first heard in the world. After the Liberation of 1878 communications were not well- developed at all. Botev and Levski were known only in the Balkans. During the 1920s and the 1930s Dan Kolov brought fame to Bulgaria on five continents – North and South America, Europe, Asia, Africa and Australia," critic Marin Kadiev said.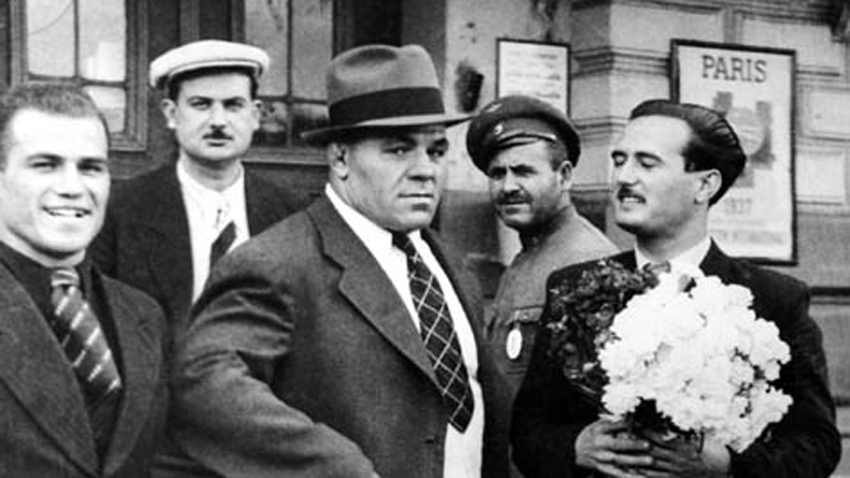 Doncho Kolev Danev was born in 1892 in the village of Chadarliy (today's Sennik), in Central Bulgaria. He was barely 5 when his father passed away. His mother had to take care of 6 children. This forced 13-year-old Doncho to leave Bulgaria to look for a job abroad. He went to Hungary, where in Budapest his employer, amazed by Doncho's strength, told him; "Your bread is not in my garden", and advised him to try his luck in America. That was how Doncho Kolev arrived in America in 1909. He worked in mines and was among he builders of the railway in the Rocky Mountains. For 10 years he was did hard physical labor, dedicating his free time to amateur wrestling. His professional sports career started late, at the age of 25. After a number of successful matches in Catch Wrestling, which was beginning to take the place of classic wrestling in America at the time, managers offered him to change his name to Dan Colin, but he insisted on keeping his Slavic –'ov' at the end of the name. Later the Balkan Lion would remember: "I have over 1500 wrestling matches against world famous wrestlers. They have offered me money to lose but I have never forgotten that I am not only Doncho from Chadarliy, but I also represent Mother Bulgaria. They offered me American citizenship but I refused. It was clear – if I severed my link with Bulgaria, my strength would be gone."
His famous bouts include the famous match versus Japanese star Jiki Hegen "The Strangler" in front of the Japanese emperor. The Bulgarian won, crushing the Strangler's spine - he had been unvanquished unbeaten to that moment. In 1936 he won the European title and the diamond belt winning against champion Henri Deglane but kept up his friendship with him. So, Dan Kolov became the first Bulgarian wrestler to win the European champion's title. When after the death of the Bulgarian wrestler Deglane visited his home village, he wrote: "He was an extraordinary man! His kindness, warmth and honesty were directly proportional to his strength." French journalist A. Margot described Kolov in the following way: "He looks a bit like a gorilla - hairy, bearded, with a flattened nose and large ears, with an involuntary roll of the upper body, placed on relatively short legs. But after the initial surprise one realizes Dan Kolov is a nice guy.  He shakes your hand with the intimacy of a sincere soul. His eyes have a look of the nicest chap and they don't lie. " 

 
When in 1935 Dan Kolov returned home by train from Paris to Sofia, a big crowd of ​​people welcomed him as their idol and he cried with emotion. Even though he was famous around the world Doncho remained a modest man. He spent large sums on charity. In 1933 he donated USD 2,000 to the Committee for the Protection of Georgi Dimitrov, accused of burning down the Reichstag, because he "could not remain indifferent to the fate of any Bulgarian in danger." He bought the first passenger's airplane for Bulgaria and helped students, orphans, the Union of the Blind, relatives, etc. He provided equipment to training halls in Sofia. Ivan Hadzhiyski wrote: "He made a number of people ashamed, although he could have easily kept the money in his pocket."  
 
Dan Kolov died in 1940 of tuberculosis before turning 48, but the legend of the great wrestler lives on.
English: Alexander Markov
Photos: archive