Two emblematic galleries in Sofia - the National Art Gallery and the National Gallery for Foreign Art united their collections in a new structure. Seven Ministers of Culture have worked on this project over the years. The project, also known as the Bulgarian Louvre, gathered under one roof a host of Bulgarian, European, American, Asian and African works of art. Nearly two thousand works created by artists from Bulgaria and abroad are on display in twenty eight exhibition halls. Following a special competition, the art collection was named National Gallery Square 500.

Here is what celebrated Bulgarian artist Academician Svetlin Russev, who is in charge of the exhibition's concept and arrangement, told Radio Bulgaria:
"This museum is an unorthodox museum in every respect. It is based on the National Art Gallery and the National Gallery for Foreign Art. These two collections are very different, but do have some points of contact and also fundamental differences. I would like to point out that during the arrangement of the exhibition space the teams working on the project never lost sight of one single idea - to bring our national culture to a level which is commensurate with the present-day problems and trends in museum work."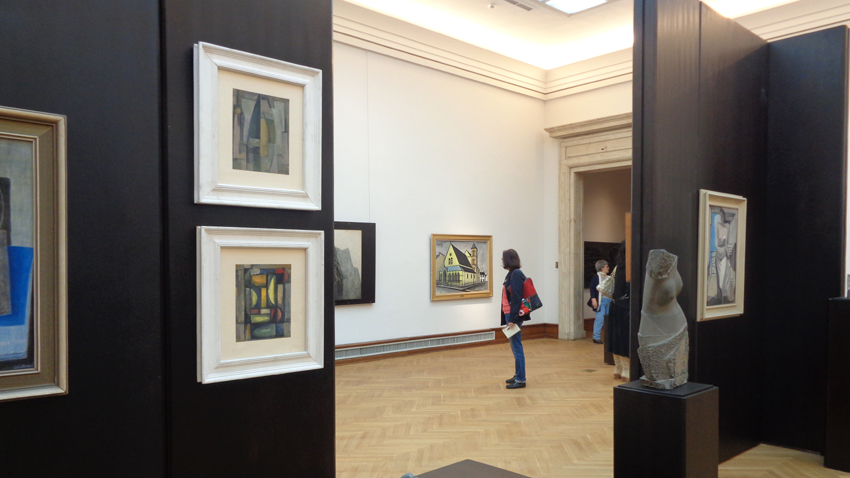 In Svetlin Russev's words, the intention of the organizers was not merely to make a mechanical merger of two galleries, but to launch a museum that is fundamentally different, where Bulgarian art is displayed next to foreign works, a museum that can measure up to European and world tendencies, especially those typical of the 20th century. The main objective of the team was to highlight the valuable local art collected over the years such as works dating back to the National Revival Period: the self-portrait of Zahari Zograf, Selsko Horo ot Samokovska Okoliya (Chain dance from Samokov region) painted by icon-painter Nikola Obrazopisov, as well as the present-day artistic interpretations.
In fact, this exposition was arranged by periods, rather than by authors. Thus, visitors can see in one of the exhibition halls works by renowned French artist Eugène Carrière, sculptor Auguste Rodin, as well as works of little known, yet very prominent Bulgarian female artist Sultana Suruzhon. We display works of Carrière and Suruzhon side by side in one hall, because the things Bulgarian and the other European artists are interested in are the same, Svetlin Russev points out. I think that we shall witness interesting findings, which are of great importance to research-workers. For instance, we can all see how two works by French artist Renoir and a painting by Nikola Petrov created during the Post Impressionism period match so well together. 

The ambition of the team was not merely to demonstrate well-organized exposition space, but to lend meaning to the treasure-trove on display at the gallery. Last, but not least, this is a different rendition of art, revealing new opportunities for research. The official opening of the gallery is on May, 28, 2015.
English version: Kostadin Atanasov
Edited in English by Milena Daynova
Photos: Veneta Pavlova