People call him Bai Hazim the Forester as a respect to his 30-year-long service to the Bulgarian forest. For me the forest is my whole life, he says. I go to the woods every day as a doctor and look for erosion and pests and then I report to the local forestry. For the past 30 years I have planted a great number of trees and today when I see a forest planted by me I become very excited. I know every tree and every forest path. In the region of the village of Lyulyakovo there are oak, beech and some pine forests. In my opinion the oak forest should be left to renovate in a natural way as this way trees become stronger, while planting them in a tree nursery takes a lot of time. For the Week of the Forest Bai Hazim wished everybody to love the Bulgarian forest and be proud of it the way he is.
In addition to the forest Bai Hazim also takes care of orchards. We find him in one these blossoming orchards. Thanks to European financing that helped him buy necessary equipment and trees, he and his family take care of 15 decares of cherries and 12 decares of plums. He says that the winter caused no damage to the trees but the most difficult time of the year is spring when spring frost is very dangerous. Bai Hazim has placed bales of straw under the trees that he lights on fire during clear nights when frost can be expected. The smoke keeps the frost away from the trees. He has "Van" cherry trees in his orchard that he bought from a tree nursery owned by his friend. He says he likes this type of cherries as they are ripe in June and look very good for sale.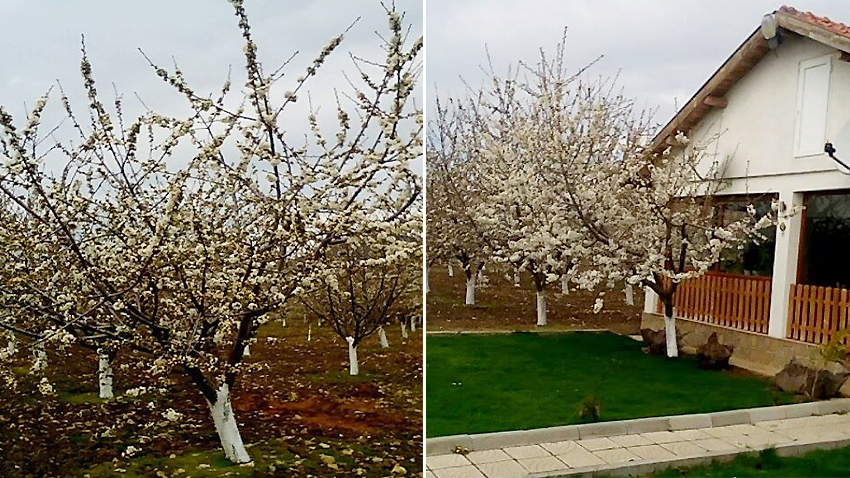 We asked him if he found market for his produce.
It turns out that the close proximity of Lyulyakovo to the seaside provides him with the opportunity to sell his produce at high prices during the tourist season. Bai Hazim is also very proud of his plum orchard that is now 7 years old.
"It has turned out that plum trees are grown much easier in comparison to cherries. Plums do not require so much work. I sell the plums to local villagers to make jams and plum brandy. At the end of August I manage to sell all production, he says. But beginner fruit growers should know that planting saplings is just the first step of the creation of an orchard, as difficulties start next and include cultivation, pest control, timely pruning, pollination, protecting the trees from cold and frost," the farmer says.
Upon wishing goodbye Bai Hazim invites us to come back to Lyulyakovo and this beautiful region of Bulgaria in June to try his cherries and once again in August when the plums will be ripe.
English: Alexander Markov