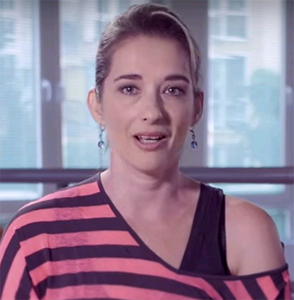 When one hears the cancer diagnosis, the result is always stress and panic. That is when one needs the help of a professional psychologist who can help you move on. In Bulgaria oncology is at the level of most European countries and patients receive good treatment. This is what Diana Guneva from the One in Eight Foundation that helps women with breast cancer says.
Currently the team of the foundation created by TV host Nana Gladwish has been touring 25 Bulgarian cities with their pink campervan in the framework of the Close Friends project that aims to reach women suffering from the illness. It offers individual psychological consultations and patients are taught techniques for coping with stress, as well as art therapy. Women are given advice on diet and a professional makeup artist shows women how to overcome unwanted side effects of the treatment.
"What impressed us is that people show much interest in our activities across the country," Diana says. "Everywhere we are welcomed as dear guests. People feel the need to talk to us; they need someone to give them hope; to meet people who have been successful in the fight against cancer. Unfortunately, there are not many such organizations across the country. That is why we decided to start these tours.It is a tiring but also a pleasant experience."
According to the British organization Breast Cancer Care, one in eight women would suffer from breast cancer. In Bulgaria 3,800 women are diagnosed with breast cancer annually.Some of the problems Bulgarian patients face are lack of information, choice of treatment and psychological help. The bad news is that there are more and more young women who are diagnosed with breast cancer. In the past mostly women above 40 suffered from breast cancer but now there are younger women diagnosed with breast cancer.
Unfortunately, even in the second decade of the 21st century, stigma prevails in public attitudes towards cancer. For a part of the population, cancer is a taboo topic. There are women who hide their diagnosis.


Diana Guneva has also been fighting her battle against breast cancer. She is currently undergoing reimbursed cancer treatment in a hospital in Sofia. She told us more about the way she learned about her diagnosis; about what made her move forward and start supporting other women in the same situation.
"When I was diagnosed in 2013, there was the shock and horror that are normal for everyone who first hears the words 'You have cancer'. After that I went to consult a psychologist and I became a volunteer in the One in 8 Foundation as a yoga instructor before joining the team. This is what helps me continue my fight against cancer, as unfortunately cancer has come back to me. When I help others and when I try to give them a part of myself, I help myself, too. That is how I save myself," Diana says with a smileshining with strong positive energy. She wishes all women health, and to those who are about to find out about their terrible diagnosis, she sends a message:

"If someone happens to hear these words (since no one is safe, no matter how smart or rich they are), they must remember – it is 2017 and breast cancer, even if not diagnosed at an early stage, is curable. Oncology has made a big progress. I know how they would feel, but they should focus not on the problem but on solving it. That is how they will be successful. I am sure about that!."

English version: Alexander Markov
Photo by courtesy of the foundation