The greatest recognition for each person and artist is to be dispossessed and marginalized in the years of darkness. However, sooner or later time becomes judge and sets the ones, who were previously sent into oblivion, to pedestal in eternity.
50 years ago Lika Yanko's paintings were branded as avant-garde and her first solo exhibition was banned. However, today her works of art are on display at Colorit Gallery in Bulgaria's capital Sofia. "The exposition includes paintings from different periods - Yanko's earliest landscapes and paintings depicting Rhodope women, fishing paintings inspired by Bulgaria's coastal town of Sozopol, icon paintings and applied works with collage technique. We also included in the exhibition four paintings that have not been displayed until now", curator Neda Mitkovska told Radio Bulgaria.

Lika Yanko was born in Bulgaria's capital Sofia in 1928 in the family of Albanian refugees. Her child imagination was captivated by the paintings of French artists from the second half of the 19th century. However, Bulgarian reality brought Lika down to earth and her thesis works were assessed with D marks by the professors at the National Academy of Art. Moreover, three of her paintings did not fit into the aesthetics of "socialist realism" and her first solo exhibition was banned several days after it was unveiled. Thus, Lika Yanko was closed up in her own works and her workshop for 14 whole years.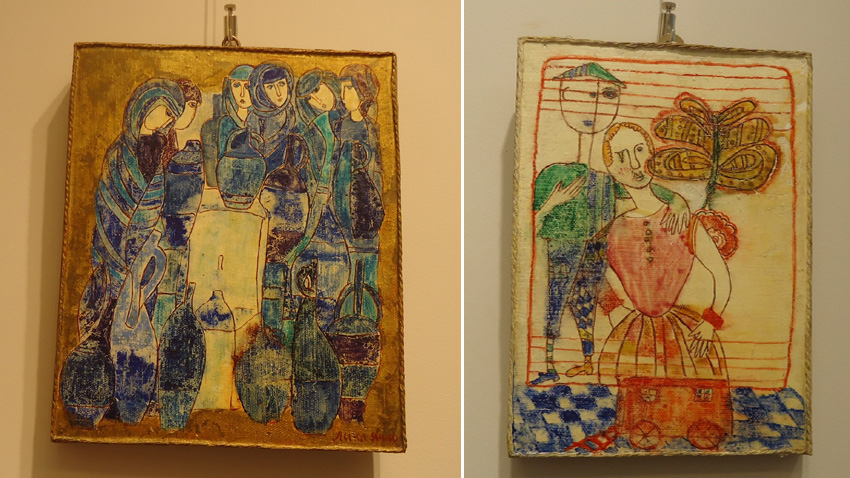 "Although Lika Yanko was a child of Albanian emigrants, she always said she was Bulgarian. Lika was only fifteen when she joined the National Academy of Art in the class of Dechko Uzunov and Iliya Petrov and back then she started to make her daring and different style public. None of her works were included in the joint exhibitions of the Union of Bulgarian Artists during the ban. However, Lika managed to come in contact with the French press officer who helped her sell paintings to almost all foreign embassies in Bulgaria. Over 200 paintings born under Lika Yanko's brush are now part of private collections abroad - in Europe, the USA, Indonesia, South America, etc. Art connoisseurs are divided during Lika's most active period. Some of them admired and acknowledged her works and others denied them."
Lika Yanko liked what was brave, strange and unusual and this is easily noticed in her works:
"Her first solo exhibition was held back in 1967. The themes of her works of art were unknown at that time and Lika presented and later developed her own artistic style", Neda Mitkovska further says. "Her exhibition was closed six days after it was unveiled and her works were banned until 1981, because the former regime accused her of indiscipline and formalism and claimed that her paintings were avant-garde. However, Lika did not stop creating during those 14 years and her works attracted the interest of many foreign ambassadors and diplomats."
Lika Yanko truly admired Vincent van Gogh and admitted that the celebrated world artist had huge influence on her. That is why Lika used to call Van Gogh "The Only Spiritual Teacher". French critic Pierre Restany compared Lika Yanko with Picasso. I am not Picasso, I am Lika, the Bulgarian artist modestly replied.
"Lika Yanko's works are influenced by Paul Cezanne, Vincent Van Gogh and Paul Gauguin. She was impressed by the popular painting by Edgar Degas depicting ballet dancers and even started to practice ballet dance, in order to learn how to recreate them more realistically in her works. Lika Yanko was described as the "Lord of the White Color". Lika herself claimed that she always ran out of white paint and that white is the color of God. She encrusted non-conventional items in her paintings - she uses mussel shells, pebbles, strings, ropes and natural materials that brought her close to nature. Some would even say her works look a bit whimsical or even ill-favored, but they were arranged in a perfect way. In other words, Lika's art was quite broad. Lika Yanko passed away in 2001. She spent her last days with the brush and the canvas."
English version: Kostadin Atanasov
Photos: Diana Tsankova