If we bother to listen to the "prophecies" of the film industry, a day will come when robots will turn against their creator to overpower him. Unsurprisingly, scientist Stephen Hawking has warned that artificial intelligence will reproduce itself and may try to get rid of man. For the time being though, robots obediently perform commands that they receive, while artificial intelligence remains soulless.
Assoc. Prof. Ivan Chavdarov is one of the scientists who invent friendly robots and he believes they will always be controlled by humans. A few years ago he created a high-tech prosthetic hand which is operated by the so-called bioelectric signals (small muscle contractions in the preserved section of the limb). For his latest device that has no analogue worldwide – a robotic humanoid hand, he received the Inventor Award 2017 from the Union of Inventors in Bulgaria. The hand developed by him uses artificial intelligence elements, is operated by a sensor glove and can be used both autonomously, and as part of a humanoid robot. Besides it is driven by six motors and each of the fingers can move independently from the rest.
The purpose of the humanoid hand is to imitate gestures, Assoc. Prof. Ivan Chavdarov explains. In one of the projects for children diagnosed with autism we attached it to a Mignon doll and children watched the language of gestures, learned how to count and to understand new information, and were more easily socialized. These kids have very interesting behavior and in certain aspects they are better developed than other kids. Quite a few of them for instance, are used to communicating with technical devices and therefore the invention is very useful for them – they preferred to communicate with the robotic hand rather than with a pedagogue.
It is an intriguing detail that the humanoid hand has been fully made by a 3D printer – a technology of the future linked to many hopes in medicines and biology.
For the first time thanks to 3D printing, objects are made by adding material; the particles of the material are tiny and do not require any shape – unlike earlier technology that is based on removal and transformation of material, the inventor explains. For example in my project the fingers of the hand are printed assembled and in this way the whole operation of assembly has been skipped. The fingers have no axes that are typical of standard machine components. The axis is directly printed from the same plastic material from which the finger has been made, and this is only possible with 3D printing.
The inventor says that it is hard to forecast how far this technology will go, but he does not rule out the creation of objects with varying density inside them, as well as mixing various materials so as to make objects with new properties and features. And there is more to come – personalized prosthetic hands, even eyesight recovery...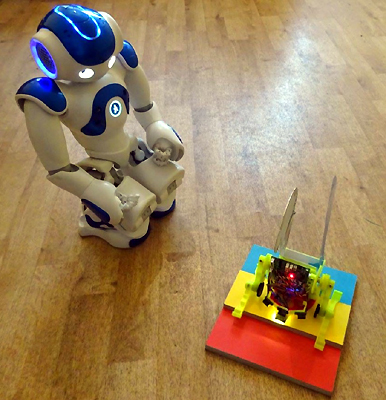 Assoc. Prof. Ivan Chavdarov is the author of ten inventions but his darling is the walking robot.
There is an aphorism of architect Ludwig Mies van der Rohe – 'Less is More' and it inspired me to look for a solution with minimum resources, Assoc. Prof. Ivan Chavdarov says further. In this way I created the walking robot which based on only two motors can move, and turn around an axis close to its center of gravity, i.e. it is highly maneuverable. Besides it can overcome various obstacles including climbing stairs which happens to be a very hard job. Well, of course, there are other robots too which can climb stairs but they have very complex make-up and are hard to operate.
The robot which is only about 15 cm tall boasts a great potential, including fighting terrorism – it is capable of moving in dangerous and difficult terrains, and of reacting to chemical pollution and terrorist threats, its creator claims.

In 1991 Assoc. Prof. Ivan Chavdarov graduated in machine engineering from the Technical University in Sofia where he specialized in robotics and today works at the Institute of Systems Engineering and Robotics at the Bulgarian Academy of Sciences. He has a second job to make both ends meet but says he is lucky, since both his jobs are related to science.




For several months now he has been coaching a Robo Academy where he introduces talented high-school students to the fascinating world of robotics. With two of them – Radoslav Iliev and Ivelin Stoyanov, Assoc. Prof. Chavdarov shared the prize for the invention of the humanoid hand.
English Daniela Konstantinova
Photos: Courtesy of Assoc. Prof. . Ivan Chavdarov