Brilliant ideas sometimes strike the respective person even in a garage. That was exactly what happened with two buddies who chatted on the future in there. However, Yavor Hristov and Dobromir Dobrev didn't realize then that their idea would take them far away along a path that was just like the white traces behind a jet plane…
"It was a joke at first, but developed into something real," 23-year-old Yavor recalls about that day, adding that he and Dobromir took up the research part of their idea at once. Thus their plane project was born, named Twin Ray. The two-seated flying apparatus will be charged by solar energy, it will fly at a speed of 140 – 200 km/h, spending up to 4 hours in the skies. The interesting thing is that it will be charged during the flight too and that is how the 400 km distance per a battery charge will be extended to 600 km. This will be a new record, given that the longest current flight possible with a plane of that kind is some 400 km.
"Most electric planes out there in the market, solar or not, register some sacrifice, aiming at high speed, lightness etc.," Yavor Hristov explains on their project's difference. "You always sacrifice something –either r the plane's comfort, or the distance covered. At the same time our wish is Twin Ray to be used for general purposes – a vacation or just a flight over nature. That is why our design is different than the current ones – the special form of the wings allows the placing of many more solar panels than what's available at the moment. The range of the flight will be also expanded at speed just like the others' plus comfort."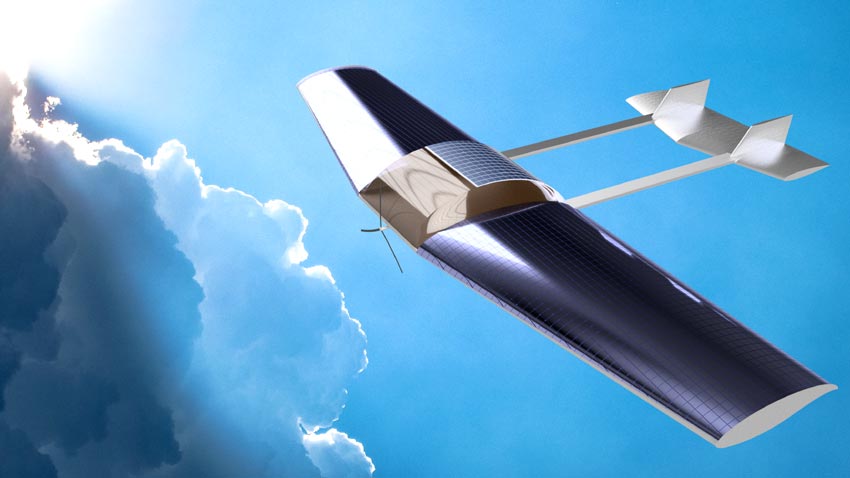 A team of some 10 people has been working hard on the project – it is a combination of electrical, aviation engineers and a marketing expert.
"Our current level is 'small prototype'," Yavor says. "This means a 1:10 replica which should be ready by end-March and if the weather is good we can test it then. As far as the actual plane and its serial manufacturing are concerned – we have already contacted several investors, hoping to establish a partnership. So, Twin Ray might be produced in Bulgaria or Germany, hitting the market in a year."
The project of Yavor and Dobromir is currently participating in a contest of Boeing, even reaching the final, along other 16 applicants out of 200. No matter if they win or not, the aviation giant will support the Bulgarians with consultations and mentorship. They already won the PowerUp! prestigious contest for startups in the area of sustainable energy for Central and Eastern Europe end-2017. Later on they presented Bulgaria at the Budapest-held final.
Which are their next goals?
"We have already developed the design and form of a single pilot sport model," Yavor says. "We will begin working on it the moment we release on the market the initial Twin Ray. We also plan the creation of a plane for autonomous flights, used for short-distance supplies. Our third goal is to enter the area of small local flights – at the moment those are carried out by passenger planes with no more than 50 – 100 people onboard, flying from one city to another. The big companies tend to use those with very low intensity now."
Yavor Hristov would like to create the airplanes of the future in Bulgaria, but points at one of the obstacles for this – a law, regulating too strictly any options for experimental flights. However, no matter his location one day, it is clear that Yavor will chase his only dream – no borders for his planes up there in the global skies…
English version: Zhivko Stanchev 

Photos: private library