Peter Georgiev - Ray (Peter G. Ray) is a Bulgarian artist, writer and actor who has been working in Canada. He arrived to Bulgaria to present his work as an artist and organize a charity exhibition, opening today, in support of the Sts. Cyril and Methodius National Library in Sofia.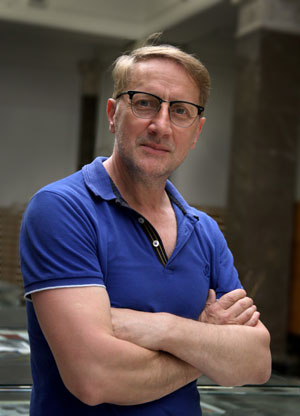 "You know, my vocation has changed me. New living conditions made me look for different means of expression, for a different talent in myself." This is how our conversation with Ray started. He has an acting degree in Bulgaria but in Canada, however, he found out his English was not too good to get big roles. He started writing poetry and prose and then focused on drawing. "It came naturally to me and it changed me."
Was it difficult for him to find friends in Canada? "At that time, Bulgarians immigrated to Canada in large groups; they were living together, supporting each other," Peter Georgiev – Ray says. It was harder to make friends with the locals:
"First you have to prove yourself in a professional sphere to find friends. You cannot go on the street and just say 'I'm an immigrant without friends'. No one will pay attention to you. Everything happens through your professional realization."
Ray says his best novel is "The Thinker or alone with a Lived" . He started writing when he was still in Bulgaria. Once again external conditions made him find another talent in him. During his acting class he was anxious to speak in front of many people and his lecturer was not of much help, too. He gradually started to appear on stage but at the same time turned to writing.
His career as an artist did not develop according to recipes, as well. In his interviews, Ray says that his novel, characterized by surrealistic atmosphere, called up images into his mind. "Definitely the book provoked me ...  The fact that I was not burdened with academic education in painting allowed me to break all the rules and not take them into consideration, simply because I did not even know them. I simply expressed myself quite frankly, spontaneously, without worrying."
Why did he decide to organize a charity exhibition in support of the National Library?
"We have a great library that is extremely beautiful," Ray says. "Its collection is rich and society should take care of it. We cannot expect just the government or the library's management to do it all. This is not possible as Bulgaria is a poor state that cannot fully meet society's needs for literacy or culture. We need to do something for our culture and spiritual development. Each one of us can do something."
Years ago, he proved success is possible to achieve by entering the prestigious and almost inaccessible then Higher Institute of Theater and Film Arts in Sofia. It was a big event for his town. Perhaps no man from Pernik had entered the theater academy for 20-25 years. Everyone tried to talk him out of applying. His teacher told his mother that it was an impossible task.
But the young man managed to prepare for the exams while serving in the army. We asked him if he was still an optimist. "Go for it, it is a delusion to think that there is no way to the top that no one has yet reached," Peter Georgiev answers.
Why did he decide to choose the name Ray? When he started drawing in Canada, the first art dealer he met gave him the advice to change something in his name as art of Eastern Europe was underestimated. "It is good to have something in the name that does not allow you to be rejected before people even see your talent, so I added that word. It is also beautiful and I wanted this name also to mark a new beginning when I arrived to a new country," Peter Georgiev – Ray says.
English: Alexander Markov
Photos: nationallibrary.bg and Ivan Dobromirov